Peter Jackson Working On A Secret Project For Steven Spielberg, And It's Not 'Tintin 2'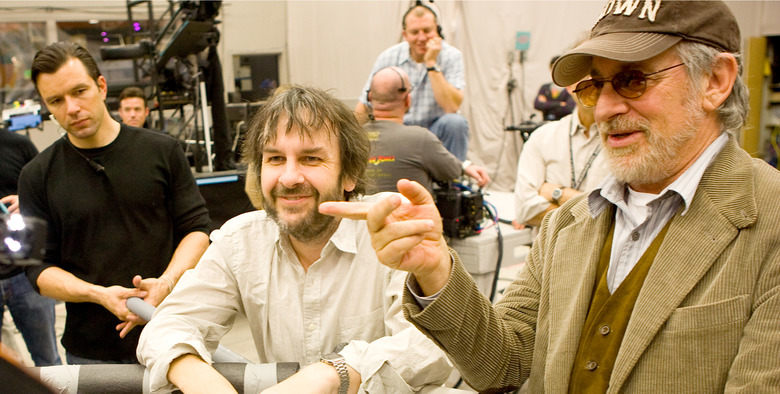 We may receive a commission on purchases made from links.
This winter it will have been five years since Steven Spielberg teamed with Peter Jackson to bring Hergé's iconic intrepid reporter to the big screen in The Adventures of Tintin. The motion-capture performance film wasn't a massive hit in the United States, earning $77.5 million, but since the comic that inspired it is much more popular overseas, it pulled in $296 million from the rest of the world. That was enough for Jackson and Spielberg to make the next chapter in what they hoped would be a trilogy from the beginning.
In the years since then though, updates have been hopeful, but without an evidence of a sequel actually coming together. Now we have a slight update on the status of Adventures of Tintin 2. The good news is that Spielberg and Jackson still want to make the sequel. But the more interesting news is that Jackson is already working on a secret project for Spielberg's Amblin Entertainment. What could it be?
Speaking with The New Zealand Herald (via The Playlist) promoting this weekend's release of The BFG, Spielberg had this to say about his future collaborations with Peter Jackson:
"Peter was so busy with 'The Hobbit' that it took him away from 'Tintin' and he's doing another film for my company now. It's a secret, nobody knows about it. Then after that he'll do 'Tintin.'"
We've heard Spielberg and Jackson both say that Tintin would happen sometime in the future, but it's been five years since that happened and the last solid update we heard on the matter was back in 2013. But honestly, I just might be more excited about this secret project that Jackson is working on.
There's no indication from Spielberg as to what the project might be, but one of the possibilities could be that gestating Dam Busters movie Jackson was kicking around for awhile. The film was a remake of the 1955 film of the same name about a Royal Air Force squadron tasked with blowing up dams during World War II. However, that was something that Jackson was only going to produce and was never attached to direct. Spielberg didn't directly say Jackson was directing a movie for Amblin though, so that doesn't necessarily rule it out.
Another possibility posited by the original report is a smaller film along the lines of Jackson's intimate drama Heavenly Creatures from 1994. More specifically, Jackson has been said to be interested in the story As Nature Made Him: The Boy Who Was Raised as a Girl. The book tells the true story of Canadian man David Reimer who was raised a female after a botched circumcision when he was aged just seven months.
Beyond those two possibilities, we're not sure what this project for Jackson could be. At the very least, we can be happy that Peter Jackson and Steven Spielberg are collaborating again, and they still haven't forgotten about The Adventures of Tintin: Prisoner of the Sun, which may or may not still be the sequel's title.