'Swiss Army Man' Featurette: See How Daniel Radcliffe's Flatulent Corpse Was Created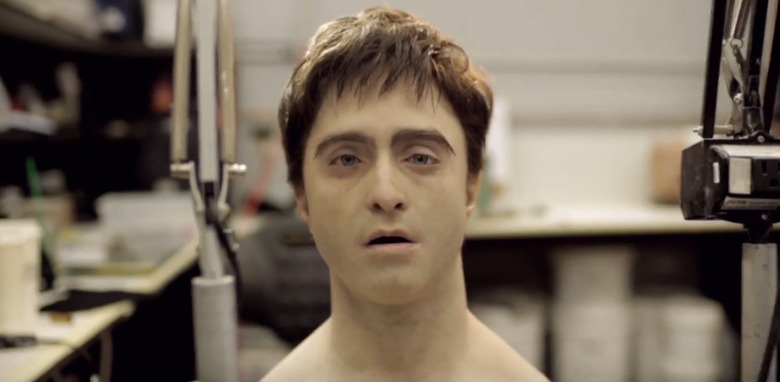 The buzzed-about Sundance-selected indie Swiss Army Man got a limited release last weekend, and it will be expanding to more theaters this weekend. The film has infamously been called the "farting corpse" movie because that's exactly what is prominently featured. Bringing even more attention to the movie is the fact that the corpse in question is played by none other than Harry Potter franchise star Daniel Radcliffe. Now you get to see how his corpse stand-in was created in a new Swiss Army Man featurette that you can watch after the jump.
It looks like Daniel Radcliffe had to do a full body cast to create an accurate dummy to stand in for his body on the production. However, unfortunately we don't get to hear from Daniel Radcliffe what that might have been like. But we do get to see the dummy at various stages of creation, including one phase where it looks like Radcliffe as one of the engineers from Ridley Scott's Prometheus.
If you stick around to the end of the featurette, you get make-up effects producer Jason Hamer teasing a discussion about a certain part of the dummy's anatomy. But sorry, folks, that doesn't sound like something that will be discussed in-depth anytime soon. So you'll just have to keep imagining that in your head.
The dummy of Daniel Radcliffe has been touring around the country in cities such as New York, Denver and Chicago. If you follow the A24 Twitter feed, then you'd get to see some photos of Manny at various stops on the tour like this:
When in Denver...🌿 #MannyWatch #SwissArmyMan pic.twitter.com/uf6kyX3YdQ

— Swiss Army Man (@SwissArmyMan) June 12, 2016
If Swiss Army Man is playing somewhere near you, let your curiosity get the best of you, and you'll be rewarded with one of the strangest but also most touching movies you'll see this year. It's wholly original, and not just because of the odd concept. Paul Dano and Daniel Radcliffe make for one of the best duos of the year, and you simply must see this movie for yourself. If you need anymore convincing, read our full review from Sundance right here.
Being stranded on a deserted island leaves young Hank (Paul Dano) bored, lonely and without hope. As a rope hangs around his neck, Hank prepares to end it all, until he suddenly spots a man (Daniel Radcliffe) laying by the shore. Unfortunately, he is dead and quite flatulent. Using the gassy body to his advantage, Hank miraculously makes it back to the mainland. However, he now finds himself lost in the wilderness, and dragging the talking corpse named Manny along for the adventure.
Swiss Army Man is in limited theaters now and expands nationwide on July 1.