'Ghostheads' Trailer: Fans Use Their 'Ghostbusters' Passion To Do Some Good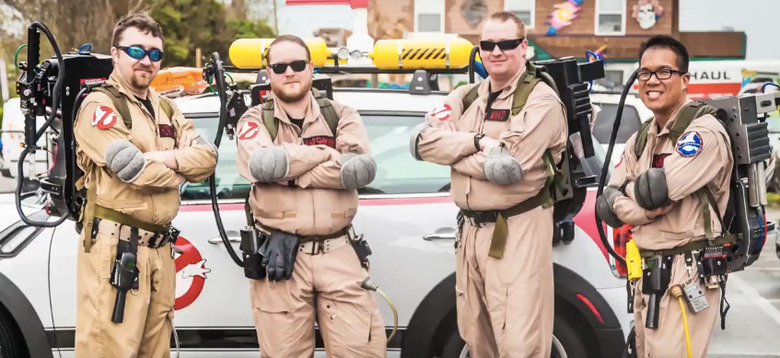 There's a sect of Ghostbusters fans who have been pretty nasty about the reboot of the 1984 classic that's coming this summer. Not everyone who isn't excited about the new movie is being vicious about it, but there's certainly a very vocal, unnecessarily hateful group who are giving fans of Ivan Reitman's movie a bad name. Thankfully, a new documentary shows that they're not all like that.
Ghostheads is a film that looks at Ghostbusters fandom around the world, shining a light on all the charity work by various chapters of fans who use their love of the iconic movie to bring some joy to children's hospitals, struggling families and more. It looks a bit hammy, but also very touching. Plus, it features interviews with all the right Ghostbusters people, including Dan Aykroyd, Ernie Hudson and more.
Watch the Ghostheads trailer after the jump.
This looks like a fairly straightforward documentary from director Brendan Mertens, a Canadian filmmaker who is also a huge Ghostbusters fan. And he wants to show that Ghostbusters fans out there aren't all nasty: "Ghostheads are friendly people — there's not really any animosity like in other fandoms we've seen. They really use their powers for good — raising money for their local communities, providing a place for people who may otherwise feel alone, and visiting children's hospitals in full gear, brightening the days of every child they meet."
So while this documentary will probably be pretty cheesy, it's one that will probably touch your heart. Produced by The Goldbergs creator Adam F. Goldberg, this is undoubtedly full of plain old nostalgia for Ghostbusters, but used in a way that has a positive impact on people's lives. The good news is that you'll be able to watch it on Netflix on July 15, the same day the Ghostbusters reboot hits theaters.
GHOSTHEADS looks back at the impact the Ghostbusters franchise has had on fans over the past three decades. Through interviews with key cast and crew, including Dan Aykroyd, Ivan Reitman, Ernie Hudson, Paul Feig, and many more, as well as with the Ghostbusters fan community from across the globe, Ghostheads presents countless humanizing stories about overcoming obstacles, comradery, and the idea that no one should ever feel alone or isolated. From Tom Gebhardt, a young man from New Jersey who's built his own Ecto-1 and feels most like himself when in uniform, to a woman who won her battle with addiction by focusing 
her energy on building props from the films, to Peter Mosen, the "Original Ghostbusters Fan," who's been dressing up like Ray Stantz since the first film's release, and whose passion landed him a small part in the sequel.  Ghostbusters has impacted many lives over the past 30 some-odd years, and these are some of the fans who continue to carry the torch of the franchise's positive messaging, all over the world.