Watch: This Japanese 'Ghostbusters' Theme Blows Fall Out Boy Out Of The Water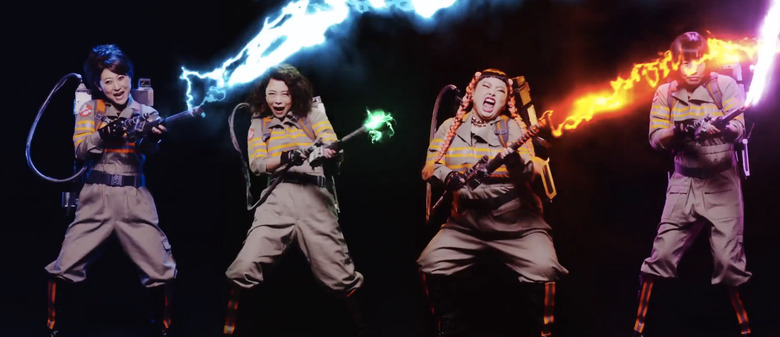 Even though I was one of the few people who didn't flat out hate the Fall Out Boy cover of the Ghostbusters theme that debuted last week, I'll be the first to admit that it doesn't constitute good music. At the same time, the original theme is only beloved because it's soaked in nostalgic love for the original movie, because Ray Parker Jr.'s signature tune is not good music either. But that's neither here nor there, because now we have a Japanese Ghostbusters theme cover that delivers the perfect contemporary update of the original song, complete with choreographed proton pack dancing and more.
The Verge brought this Japanese Ghostbusters theme to our attention, and I couldn't be happier than they did. Sure, there's footage from the new Ghostbusters in this video, whatever. The real draw is the four Japanese comedians (Tomochika, Oniyakko Tsubaki, Naomi Watanabe and Shizuyo Yamasaki) all decked out in Ghostbusters gear, singing along to the song, and shooting colorful proton pack blasts in synchronized dance routines. It's J-POP meets the 1980s and it's wacky and glorious
This was also officially released by Sony Pictures Japan, so I wonder if this theme plays a part in their cut of the movie. Maybe Japan won't have the Fall Out Boy theme song and they'll get this awesome version instead. Or maybe it will appear in the US version of the movie as a sort of tribute song, not unlike the way the Spider-Man theme song appears in some form in all of Sam Raimi's movies.
Ghostbusters makes its long-awaited return, rebooted with a cast of hilarious new characters. Thirty years after the beloved original franchise took the world by storm, director Paul Feig brings his fresh take to the supernatural comedy, joined by some of the funniest actors working today – Melissa McCarthy, Kristen Wiig, Kate McKinnon, Leslie Jones, and Chris Hemsworth. This summer, they're here to save the world! The film is produced by Ivan Reitman and Amy Pascal, and written by Katie Dippold & Paul Feig, based on the 1984 film "Ghostbusters," written by Dan Aykroyd and Harold Ramis and directed by Ivan Reitman.
Ghostbusters arrives July 15.