'The Get Down' Trailer: Teens In The South Bronx Must Do Or Die In Baz Luhrmann's Netflix Series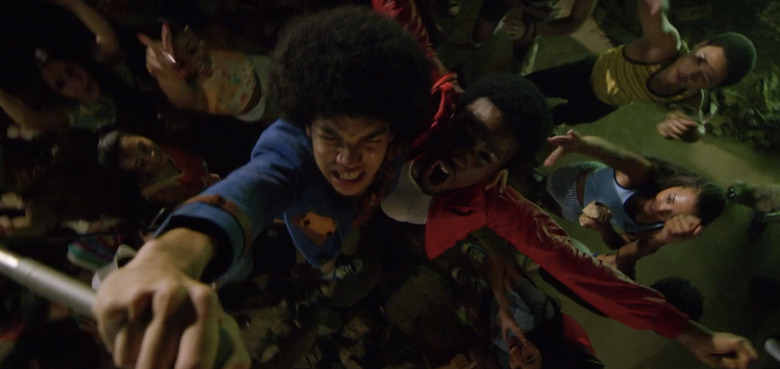 Since HBO canceled their '70s-et, music-infused series Vinyl, it's up to Netflix and Moulin Rouge director Baz Luhrmann to bring us back to the decade with their new series The Get Down. A quick new trailer has just arrived featuring new footage, and more importantly, some of the new music from rap artist Nas that we'll be hearing in the series.
Watch The Get Down trailer after the jump.
As a huge fan of the kind of fantastical stories Baz Luhrmann tells on the big screen, from William Shakespeare's Romeo + Juliet to The Great Gatsby, I can't wait to see what he brings to our eyes and ears on Netflix. With a series that takes place during one of the finest decades in music history, Luhrmann has endless possibilities for what he can do with music in this series. From hip hop to punk to disco, there's bound to be some incredible musical moments in this series.
The cast is nothing to scoff at either, with Breaking Bad star Giancarlo Esposito, Jimmy Smits and Jaden Smith starring in the series, but I'm most excited to see Dope star Shameik Moore back on screen again. Hamilton's Daveed Diggs also appears. And there are lots of other up-and-coming or under-the-radar talents that we'll see, including Justice Smith, Herizen Guardiola, Skylan Brooks, T.J. Brown Jr, Yahya Abdul-Mateen II, Mamoudou Athie, Yolonda Ross, and Zabryna Guevara.
If you want to see more from The Get Down, you can watch plenty more footage in the previously released trailer from back in January. Here's hoping this is one of those shows we'll want to see stick around Netflix for awhile.
The Get Down focuses on 1970s New York — broken down and beaten up, violent, cash strapped — dying. Consigned to rubble, a rag-tag crew of South Bronx teenagers are nothings and nobodies with no one to shelter them — except each other, armed only with verbal games, improvised dance steps, some magic markers and spray cans. From Bronx tenements, to the SoHo art scene; from CBGB to Studio 54 and even the glass towers of the just-built World Trade Center, The Get Down is a mythic saga of how New York at the brink of bankruptcy gave birth to hip-hop, punk and disco — as told through the lives and music of the South Bronx kids who changed the city and the world...forever.
The Get Down debuts on Netflix on August 12.