'Independence Day 3': Roland Emmerich Already Has An "Intergalactic Journey" In Mind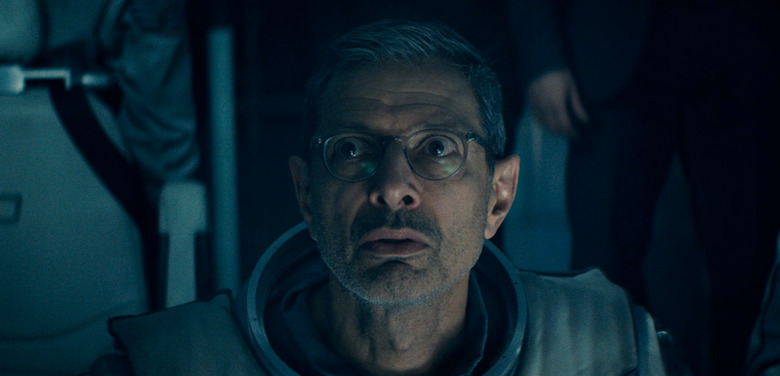 Independence Day: Resurgence only just hit theaters yesterday, but even before audiences were able to check it out for themselves, we knew this sequel would at least hint at the possibility of another movie to follow. Now director Roland Emmerich has confirmed as much, and he even teases that Independence Day 3 will feature an "intergalactic journey" for some of the characters. However, in order to talk about that sequel, we'll have to dive into some Independence Day: Resurgence spoilers. So if you haven't seen the sequel yet, beware of everything after the jump.
Independence Day: Resurgence features the introduction of a new aliens species, and we're not just talking about a different kind of alien among the ranks of the invaders who attacked us before. Instead, we meet a being who is the last of a species that is so advanced that they turned themselves into purely virtual consciousness. This one is contained inside of an orb that also houses endless details on their advanced technology and knowledge of the universe.
But the real juicy piece of information learned from this being is that before the rest of its species was destroyed by the invading aliens, they began working with other aliens from around the universe to assemble on a distant planet to prepare to finally finish what has become a galactic civil war. Once the queen alien and the rest of the hive-minded aliens have been defeated at the end of Resurgence, Dr. Okun tells everyone else that part of the orb's information includes details on how to make intergalactic travel possible, and it's time to "kick some alien ass."
Knowing all that, it should come as no surprised to hear director Roland Emmerich tease the sequel to Empire by saying:
"The next one will be an intergalactic journey. It'll be [set] maybe a year or two later, not 20 years [on]. I want to maintain this group of people, especially the young characters, and Jeff [Goldblum] and Brent [Spiner] will take part in it. It'll be fun to keep that group together. I imagine them now going in one of these ships they've rebuilt into a wormhole. I think it'll be the classic of going into space but it has to be about Earth, and we have a really good idea for that."
Considering the sequel will take our characters to another galaxy, it's a shame that Will Smith's character's absence couldn't have been explained in a way that didn't simply kill him off. In Resurgence, we learn that Captain Steven Hiller died in a test flight on one of the advanced space-traveling jets introduced. But how cool would it have been if Hiller was presumed dead after a test of some kind of intergalactic vehicle saw him enter deep space and never return? Earth Space Defense thinks they failed and never try again for fear of risking more lives. But now that they have the information they need for intergalactic travel, they could learn that Hiller actually made it to another galaxy, specifically the one where these aliens are gathering this offensive.
Anyway, Independence Day 3 will bring back the new young characters played by Liam Hemsworth, Jessie Usher and Maika Monroe, along with original cast members Jeff Goldblum and Brent Spiner. Unfortunately, Bill Pullman won't be coming back, because he sacrifices himself in an effort to take out the queen. Vivica A. Fox also dies in the attack, though Judd Hirsch survives, so presumably he would be back. More than likely William Fichtner would be brought back as the new President too, sworn in after the rest of the Presidential succession is killed.
However, we won't know if 20th Century Fox will want to pursue an Independence Day 3 until after the box office numbers get fleshed out. Despite how obviously the end of Resurgence sets up a sequel, there's no guarantee we'll get one. Plus, Emmerich is going to be busy with his next project Moonfall at Universal, so even if Resurgence is a hit, it won't be fast-tracked without him on board. The director says, "Will I definitely direct it? Oh yes. I'd never, ever let someone else do it."
Independence Day: Resurgence is in theaters now. Read our review of the sequel right here.