'Moonfall' Is Roland Emmerich's Next Movie, Somehow Not A James Bond Parody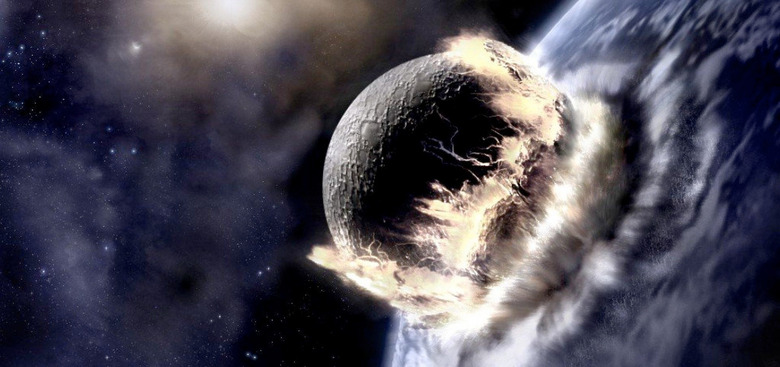 This weekend brings Independence Day: Resurgence to theaters 20 years after the original destroyed the world's major cities, and while it leads right into the possibility of a third film to follow, that won't be director Roland Emmerich's next movie. And the idea for this new project is just as ridiculous as you'd expect.
Universal Pictures has just thrown down seven figures for Moonfall, a sci-fi spec script that Emmerich wrote with Harald Kloser (writer, producer and composer for his disaster flick 2012) and Spencer Cohen (who wrote the developing Extinction for Good Universe and Mandeville). The plan is for Emmerich to direct the film and also produce with Kloser again. So what's Moonfall about? Find out after the jump if you haven't figured it out already.
Deadline reveals that Moonfall is about, get this, the moon falling out of orbit and into a collision course with Earth. Then it's up to "an unlikely band of misfits who must unite to save humanity." So it's Armageddon with the moon, and this is somehow not a Michael Bay movie.
It's not even remotely surprising to hear how silly the story is for Moonfall, especially after you see Independence Day: Resurgence this weekend. Emmerich and Kloser have a penchant for silly movies, with films like The Day After Tomorrow, 10,000 BC and White House Down as part of their collaboration history.
Universal won the spec script after Sony Pictures and 20th Century Fox pursued the script, which is described as 2012 meets Closer Encounters of the Third Kind. I can't quite see how those two movies are going to blend together in a good way, but since this project is being fast-tracked, we'll find out soon enough.
Emmerich hasn't been known to make the most subtle movies, especially when it comes to epic scale blockbusters, so this sounds right up his alley. But it also sounds like the kind of disaster flick that audiences just aren't all that keen on anymore. As visual effects become relied upon more for these kind of movies, you can only watch photorealistic digital cities crumble so often. Let's just give people a video game where they get to destroy a city/country/planet anyway they want so we can stop having movies like this.
There's no indication as to when Universal is hoping to have Moonfall in theaters, but it will likely be 2018 at the earliest. We'll be sure to keep you posted as this ridiculous movie develops.