'Ghostbusters' TV Spots: Action & Visuals Continue To Shine As Comedy Falters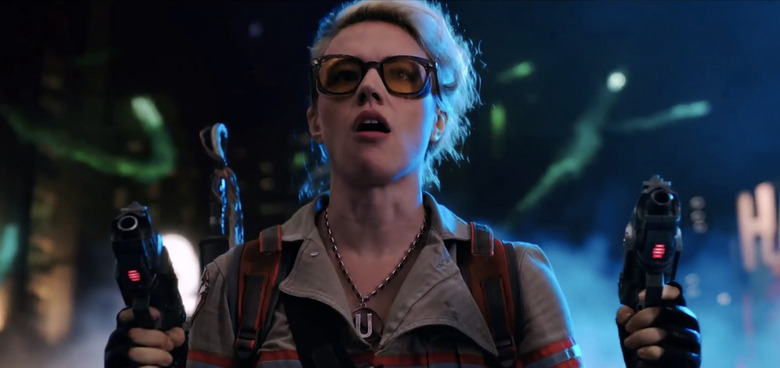 With just three weeks left until the new Ghostbusters hits theaters, plenty of TV spots are started to hit the air, trying to pull in as many moviegoers as possible. There's no doubt the movie is going to make some bank in its opening weekend, but will it be the hit that Sony Pictures hopes it will be?
As a huge fan of the original Ghostbusters, I want to see a new franchise succeed, but the more footage of the comedy from the movie I see, the more worried I get. These new Ghostbusters TV spots don't do much to assuage those fears, and that's coming from someone who really likes the work Paul Feig has done. Having said that, the action, visuals, gadgets and more all look outstanding.
Watch the new Ghostbusters TV spots after the jump.
Honestly, the biggest problem with the comedy is that it just feels too broad. There's too much slapstick, too much silliness. I don't need the comedic tone to be just like the original Ghostbusters, but I would like it if the comedy just felt a little more clever. I still have hopes that the footage they're showing is just trying to appeal to families out there and there will be some smarter comedy in store.
If anything, even if the movie does turn out do be a dud, I think Kate McKinnon's character will be a highlight for sure. From her facial expressions to her general attitude when it comes to fighting ghosts, she already seems like the best character among the new ensemble. Though I will say Chris Hemsworth's dimwitted secretary will likely be a scene-stealer as well.
In case you missed it, you can hear the new Ghostbusters theme song by Fall Out Boy and Missy Elliott over here. It's not awful, but it's not great. Which makes sense when you consider that the original theme song is not a masterpiece, it's just beloved because of the movie and nostalgia.
Ghostbusters makes its long-awaited return, rebooted with a cast of hilarious new characters. Thirty years after the beloved original franchise took the world by storm, director Paul Feig brings his fresh take to the supernatural comedy, joined by some of the funniest actors working today – Melissa McCarthy, Kristen Wiig, Kate McKinnon, Leslie Jones, and Chris Hemsworth. This summer, they're here to save the world! The film is produced by Ivan Reitman and Amy Pascal, and written by Katie Dippold & Paul Feig, based on the 1984 film "Ghostbusters," written by Dan Aykroyd and Harold Ramis and directed by Ivan Reitman.
Ghostbusters arrives July 15.