More 'Rogue One: A Star Wars Story' Images Reveal A Closer Look At Our New Heroes [UPDATED]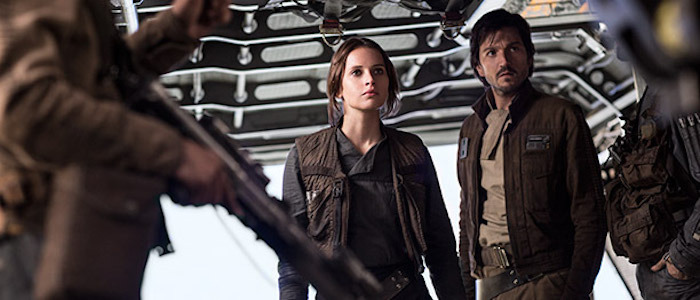 It's been a good week to be a Star Wars fan, with new Rogue One: A Star Wars Story details arriving at steady pace. Yesterday, we learned the names of the principal cast and a little bit about their backstories. Today, we were given a few key details about Darth Vader's small-but-vital role in the film. Now, a large of new images from the film have arrived, giving us a new look at many of the film's characters, a seemingly important new planet, and the black-armored "Deathtroopers" that will undoubtedly inspire a new generation of cosplayers.
UPDATE: More Rogue One photos have been revealed, and you can see them at the bottom of this story.
These images were initially unveiled over at Entertainment Weekly and each of them is accompanied by new details about the film's plot and characters, as well as quotes from Lucasfilm president Kathleen Kennedy, director Gareth Edwards, and others. We'll run down some of the important highlights and some of the images here, but make sure you click that link if you want to absorb every detail and check out every image.
First up are those Deathtroopers, who certainly look like an intimidating lot. EW confirms that they are a special unit dedicated to hunting down and destroying the Rebel Alliance, although they can't explain why one of the is seen holding a small Stormtrooper doll...
Speaking of villains, we also get a new look at Ben Mendelsohn's Orson Krennic, an Imperial officer with a hot temper whose unpredictable nature makes him a far cry from the cool-headed schemers seen in previous Star Wars movies. Although he's desperate to maintain his authority, he's not on good terms with the Emperor's enforcer, a mysterious warrior named Darth Vader.
The images also provide fresh angles on the heroes of the cast. There's Felicity Jones' Jyn Erso, described as an outlaw who becomes a "Joan of Arc" figure, Diego Luna's Cassian Andor, an experienced and collected Rebel soldier, Riz Ahmed's Bodhi Rook, the group's temperamental pilot, and Alan Tudyk's K-2SO, who appears to be a battle droid and the film's comic relief. However, the characters who call out to me the most are Donnie Yen's Chirrut Imwe and Jiang Wen's Baze Malbus. The former is a blind warrior who believes in the Force and follows the path of the Jedi without being Force-sensitive himself. The latter is his buddy and protector, a hardened soldier who doesn't believe in any mystical energy field that control your destiny but always stands by his friend.
You can peruse some of the images for yourself in the gallery below and head over to EW to see the rest. Rogue One: A Star Wars Story will land in theaters on December 16, 2016.
UPDATE: Even more photos have been revealed from Rogue One: A Star Wars Story. We've added a few below, and you can click over to EW for the others.