POTD: See Movie Locations Then & Now From 'Halloween', 'Wayne's World', 'Blade Runner' & More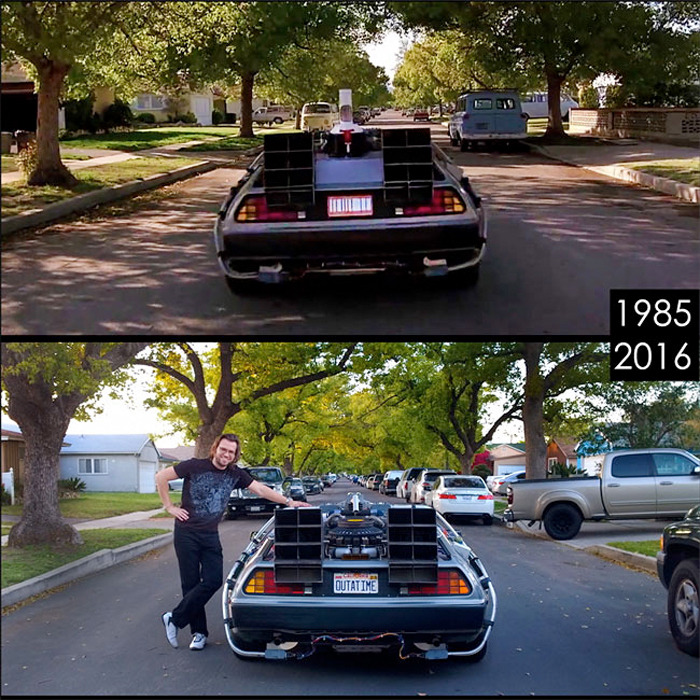 Even though many movies end up being shot on the backlots of studios, there are plenty that end up shooting on location in real places around the world. One photographer has decided to visit the real shooting locations of movies like Halloween, Fight Club, Blade Runner, Wayne's World, Back to the Future and more, but instead of just shooting a photo of the location without any context, he's been posting them matched up perfectly with the original shots from the movies.
Check out the movie locations then and now after the jump.
All the photos come from Phil Grishayev's Instagram page (via DesignYourTrust):
#filmlocation from #FightClub starring #edwardnorton , #helenabonhamcarter and #bradpitt . #90s #movies #davidfincher #losangeles #la #cinematography #follow #torq #???????????
#tbt to #filmlocation from #BladeRunner starring #HarrisonFord #darrylhannah and #rutgerhauer . #80s #movies #ridleyscott #scifi #noir #losangeles #future #bradbury #follow #la pic by @knocko_ A photo posted by Phil Grishayev (@phil_grishayev) on
#filmlocation from #backtothefuture. #bttf #shoppuentehills #weregoingback #movies #followme #instagood
Today is exactly 30 years since #BackToTheFuture was released. Best movie ever! #bttf #30thanniversary #weregoingback #michaeljfox #filmlocation #la #followme #picoftheday A photo posted by Phil Grishayev (@phil_grishayev) on
#tbt to film location from #Halloween starring #jamieleecurtis #70s #movielocations #pasadena #california #follow #picoftheday
Hello darkness my old friend... #FilmLocation from #theGraduate starring #DustinHoffman . #usc #universityofsoutherncalifornia #mikenichols #robertsurtees #movies #filmedhere #simon&garfunkel A photo posted by Phil Grishayev (@phil_grishayev) on
#filmlocation from #Ghostbusters starring #BillMurray #DanAykroyd #HaroldRamis and #sigourneyweaver . @ghostbustersnet @ghostbusters #80s #ghosts #losangeles #ecto1 #slimer #movies #follow #instagood #milleniumbiltmore
Last post in #2015 . #Filmlocation from #waynesworld starring #mikemyers , #danacarvey , #tiacarrere @thedanacarvey @tiacarrere . #la #90s #movies #vannuys #instagood #picoftheday #usa #follow A photo posted by Phil Grishayev (@phil_grishayev) on
'Cause this is Thriller!" #filmlocation from #Thriller by #MichaelJackson directed by #JohnLandis . Photo by @matt_bianchi #80s #dance #musicvideo #losangeles #??????????????? #horror #picotheday
Roads? Where we're going we don't need roads". Filming location from #BacktotheFuture starring #Michaeljfox #Christopherlloyd and #ClaudiaWells . #80s #delorean #bttf #timemachine #losangeles #movies #follow #picoftheday A photo posted by Phil Grishayev (@phil_grishayev) on
These are just some of my favorites that Phil Grishayev has taken, but you can see dozens more at his Instagram page. In addition to the Thriller photo above, he's also taken plenty of other music video inspired pictures like the movie photos you see above. It's very cool to see how these spots have evolved over time, many just having various aesthetic updates over the years. I'm surprised there's still a Burger King in that Back to the Future location.
If you're interested in checking out some movie locations yourself, no matter where you are, The Movie Map is a pretty good resource worth checking out if you want to get your photo taken next to the locations of some of your favorite movies.