FX's 'Archer' Renewed For Three More Seasons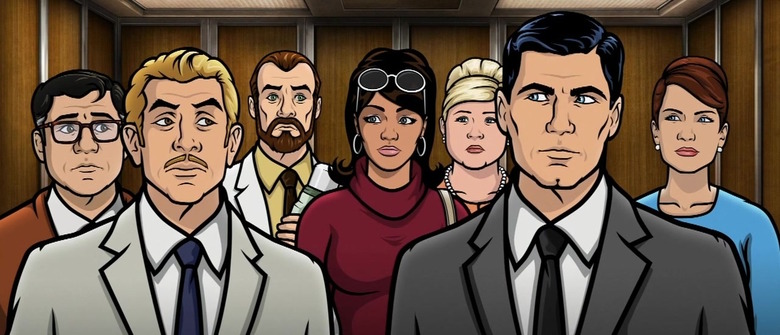 If you think about it for even two seconds, it's incredible that Sterling Archer and his colleagues have survived as long as they have. Never mind the fact that their line of work (espionage, usually, but sometimes private investigation or the illegal drug trade) puts them in danger on a regular basis — these people are often impulsive and foolish and downright incompetent.
But they always live to fight another day, and now we know for sure they aren't going anywhere anytime soon. FX has just renewed Archer for another three seasons, taking the animated spy spoof all the way through season ten. 
FX announced today that Archer will return for an eight-episode eighth season in 2017. Seasons nine and ten will also consist of eight episodes each, likely airing in 2018 and 2019. Those are shorter episode orders than seasons past. Seasons one and seven counted 10 episodes each, and all other seasons so far have had 13. There's no word yet on whether season 10 will be the show's last.
And now to the official statement for the usual publicity fluff, this time from FX's co-president of original programming, Nick Grad:
We can't say enough about what Adam [Reed], Matt [Thompson] and the entire Archer team at Floyd County have done to keep this series so insanely funny and vital through seven seasons. The move to Los Angeles this past season as private detectives was just the latest twist in Archer's legendary exploits, and the next three seasons will to be just as amazing and unpredictable. We are thrilled to continue making great TV with our friends and colleagues at Floyd County.
Archer's seventh season ended with a major cliffhanger made all the more alarming by the fact that FX was taking its time announcing an Archer renewal. But those fans can rest easy now. Today's news would seem to resolve that cliffhanger, but knowing Archer we're guessing the explanation will involve more than a few bizarre twists and turns.
While the show no longer feels as fresh as it once did, the creative team has made efforts to keep things lively, occasionally spending a season away from the spy biz to go solve crimes in Hollywood or form a drug cartel in South America. Here's to three more years of Archer nonsense.