'Independence Day: Resurgence' Video Reveals How Brent Spiner's Dr. Okun Is Still Alive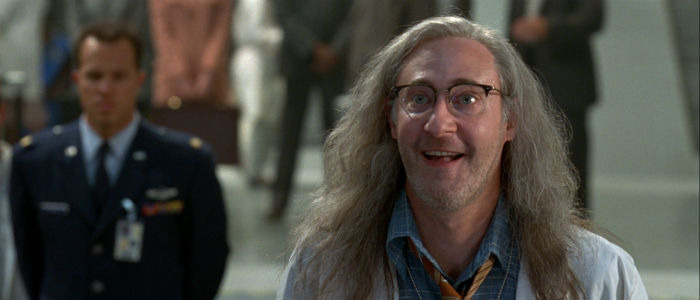 With just a few days until Independence Day: Resurgence hits theaters, we still don't know how good this sequel is going to be. As we reported over the weekend, the only screening being made available to press and critics will be on Friday morning, about 15 hours after the general public is able to see the movie at Thursday night preview screenings around the country. That either means the movie isn't very good, there's a secret they don't want spoiled, or since their confidence in X-Men: Apocalypse backfired, they're just being more cautious. We'll find out later this week.
But one thing we do know now is how Brent Spiner was able to return as the eccentric Dr. Okun after appearing to meet his demise in the original Independence Day. A new video from Earth Space Defense profiles the Area 51 scientist as one of the heroes of The War of '96, and part of the video reveals what happened to Dr. Okun after being attacked by one of the aliens and used as a communication vessel to speak with President Whitmore.
Watch the Independence Day Resurgence video after the jump.
After more than implying that Dr. Okun was a pothead during college, caring only about the classes that interested him, the video digs into the scientist's work that helped bring down the alien threat 20 years ago. Then we learn that after a close encounter with a living alien who survived an aerial battle with Captain Steven Hiller (Will Smith), Dr. Okun was in a coma.
What's interesting is that the video seems to indicate that he's still in that coma, so there's a good chance we'll see the character wake up in the movie. Maybe his encounter with the alien gives him some kind of neural connection so he can sense when the aliens begin to come back. All we know is that we've seen footage of him alive, and he's very much part of the fight against these aliens yet again.
We always knew they were coming back. After Independence Day redefined the event movie genre, the next epic chapter delivers global spectacle on an unimaginable scale. Using recovered alien technology, the nations of Earth have collaborated on an immense defense program to protect the planet. But nothing can prepare us for the aliens' advanced and unprecedented force. Only the ingenuity of a few brave men and women can bring our world back from the brink of extinction.
Independence Day: Resurgence arrives on June 24.