'Gleason' Trailer: The Sad But Uplifting Story Of One NFL Player's Struggle With ALS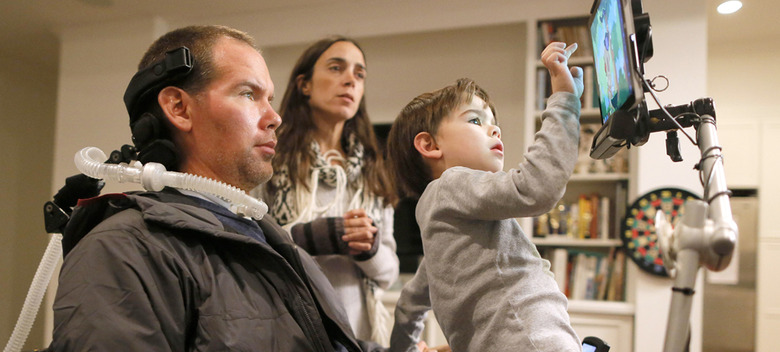 Steve Gleason was once a professional NFL defensive back for the New Orleans Saints, credited with kickstarting the beginning of a huge comeback for the once-struggling football team, something that the city desperately needed. But at age 34, his whole world went into upheaval when he was diagnosed with amyotrophic lateral sclerosis (ALS), also known as Lou Gehrig's disease.Gleason is a new documentary from Finders Keepers director Clay Tweel that tells Steve Gleason's story so far, providing the backstory of his career and the dramatic change in his life following his medical diagnosis as he deals with the deterioration of his bodily functions. However, what could easily just be a sad story is made to feel uplifting as Gleason rises to the challenge and refuses to let the disease ruin his quality of life. But most importantly, he doesn't let it stop him from being an integral part of his family.
Watch the Gleason trailer after the jump.
If this story was turned into a feature film (which it will be someday probably), it would probably feel pretty cheesy. But having it unfold in front of your eyes as a documentary gives it that authenticity that will keep people from rolling their eyes.
Gleason debuted at the Sundance Film Festival earlier this year where Variety said:
"With seemingly no restrictions from his subjects, director Clay Tweel delivers far more than just a typical inspirational living-with-disease doc: This is a portrait of a family forced to completely readjust their lives, never flinching from the accompanying fears and frustrations. Tweel masterfully assembles roughly four years of footage, much of it shot by Gleason himself, and the result is painfully raw at times but undeniably rewarding."
Even if you're not a sports fan, this looks like the kind of documentary that will bring plenty of feelings to your heart, and it will probably make you want to spend a little extra time with your father, and probably your whole family.
At the age of 34, Steve Gleason, former NFL defensive back and New Orleans hero, was diagnosed with amyotrophic lateral sclerosis (ALS). Doctors gave him two to five years to live. So that is what Steve chose to do: live. This film incorporates incredibly personal video journals from Gleason for his then-unborn son to footage of his globe-trotting adventures undertaken as part of his mission to live his life to the fullest. The film not only is about Gleason's strength as an activist, but importantly as a husband and father. The film ultimately centers around the universal story of family relationships, especially between a father and son.
Gleason starts hitting theaters in the US on July 29.