'Independence Day 2' Debuts A Las Vegas Ruins Tourism Video, But Where's The Early Buzz?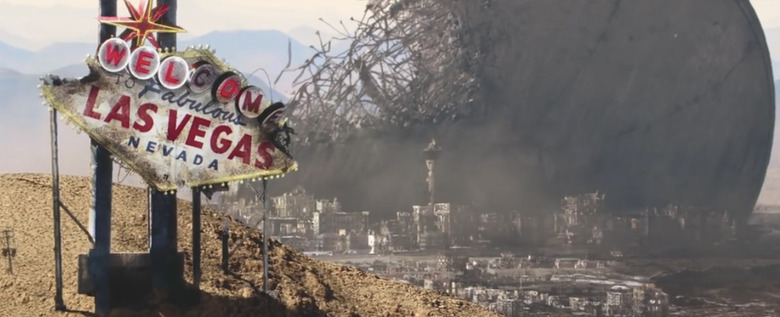 This coming week, Independence Day: Resurgence brings back the alien threat, looking to finish the job they started 20 years ago in Roland Emmerich's original blockbuster. So far the trailers have promised some big alien invasion action, while viral videos have really played up the universe in which the world finds itself advanced by alien technology thanks to the Earth Space Defense program. Now we get a taste of the more depressing side of the world of Independence Day after 20 years.
In our interview with Roland Emmerich from the set if Independence Day: Resurgence, the director revealed that 2 or 3 billion people had died in the attacks from the first movie. That's a huge chunk of the world population. And it appears we still have some reminders of the destruction from 20 years ago in the form of the ruins of Las Vegas. However, it's less of a memorial and more of a tourist gimmick now.
Watch the Independence Day Resurgence Las Vegas tourism video after the jump.
This is some pretty morbid marketing, but it's also cynically funny as well. Leave it to Las Vegas to become a twisted tourist attraction that reminds you of all the people killed when the city was destroyed while allowing you to gamble, fire off some rounds at a gun range and get married by an Elvis impersonator. Sounds about right to me. Even though this is just viral marketing, there's a chance we might see a key sequence in this setting when the movie is released.
However, we won't really know much more about the sequel until the day it starts hitting theaters. There won't even be any early buzz because press screenings aren't happening until the day of the wide release. In fact, the first screenings of the movie will happen the morning after the film has already played the previous evening for the traditional Thursday night preview screenings.
This doesn't bode well for the quality of the movie, because if 20th Century Fox was confident in what they had, they'd want critics saying all those nice things before the movie came out. We'll all just have to find out if the sequel is good at the same time.
We always knew they were coming back. After Independence Day redefined the event

movie

genre, the next epic chapter delivers global spectacle on an unimaginable scale. Using recovered alien technology, the nations of Earth have collaborated on an immense defense program to protect the planet. But nothing can prepare us for the aliens' advanced and unprecedented force. Only the ingenuity of a few brave men and women can bring our world back from the brink of extinction.
Independence Day: Resurgence arrives on June 24.