Steven Spielberg Is Still Working On A 'West Side Story' Remake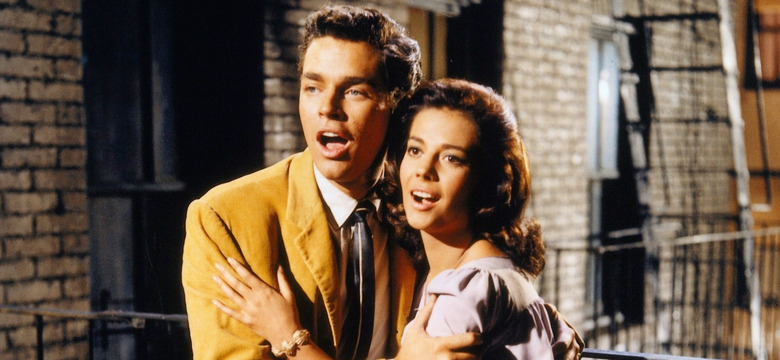 Over two years ago, Steven Spielberg grabbed the attention of musical fans when news surfaced that he was interested in potentially remaking the classic West Side Story. The musical hit Broadway in 1957 and was turned into a feature film in 1961. Since then it's been a staple of the stage, revived several times over the years with the most recent being in the last couple years in the United Kingdom. And now it appears Spielberg is making some progress in getting this new take on West Side Story off the ground, but with a packed schedule over the next few years, it might not happen anytime soon.
Find out the status of the West Side Story remake after the jump.
In a recent feature on Steven Spielberg in The Hollywood Reporter, there's a little tidbit that has gone under the radar in a section discussing all the future projects the filmmaker has on his schedule. There's the adaptation of Ready Player One at Warner Bros., a fifth Indiana Jones movie for Lucasfilm and Disney in 2019 and the historical drama The Kidnapping of Edgardo Mortara. And after recapping all of those, the trade points out:
There's a potential remake of West Side Story — which would be a Fox/MGM co-production — for which Tony Kushner is working on a script. Spielberg has dreamt of adapting it 'for decades,' securing rights after trying to get them 15 years ago.
This sounds like more of a question as to when Spielberg will get a West Side Story remake off the ground as opposed to if. But the question is whether or not this is a remake that even needs to be made. What's so appealing about the project to Spielberg? Is he looking to update it for modern times or would it merely be the same 1950s setting just update with contemporary filmmaking styles?
The story of Romeo & Juliet is at the core of West Side Story, so it's not as if this kind of tale hasn't been told dozens of times before, but there has to be something to make it worth revisiting. For those who may not be familiar with the musical, here's the official synopsis:
A love affair is fated for tragedy amidst the vicious rivalry of two street gangsthe Jets and the Sharks. When Jets member Tony (Richard Beymer) falls for Maria (Natalie Wood), the sister of the Sharks leader, it's more than these two warring gangs can handle. And as mounting tensions rise, a battle to the death ensues, and innocent blood is shed in a heartbreaking finale.
At the very least, I think seeing the story updated with today's filmmaking standards would be interesting, if only because as classic as the original film is, it has a very dated feel to it, mostly due to how artificial the sets feel. There's also the chance that we could see the story switch up the dynamic of the main characters, perhaps going for entirely different races this time.
No matter what's in store with this remake, Spielberg definitely has his work cut out for him to shake a stick at the original. The 1961 film from directors Robert Wise and Jerome Robbins won 10 Academy Awards, including Best Picture. But with Spielberg bringing his Lincoln and Munich screenwriter in to script the remake, this could definitely be something special in its own right. And who doesn't want to hear new versions of the legendary songs by Leonard Bernstein and Stephen Sondheim?
As of now, there's no indication as to how soon Spielberg would like the West Side Story remake to come together, but he's clearly very dedicated to making it happen if he's been wanting to do it for decades.