Denis Villeneuve's 'Story Of Your Life' Gets A New Title And Release Date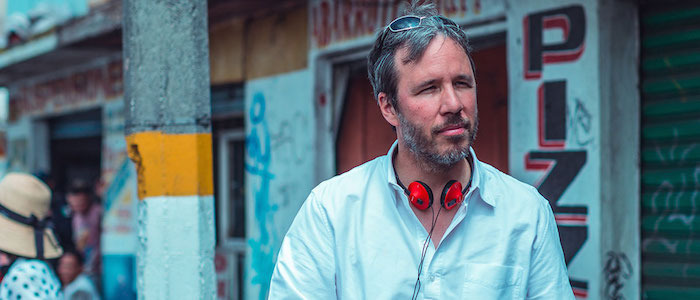 Although he's been making movies for over a decade, the past few years have seen Denis Villeneuve explode in the best possible way. The one-two punch of Enemy and Prisoners in 2013 firmly established him as a director with serious staying power. 2015's Sicario only cemented him as one the most exciting filmmakers suddenly being handed larger budgets and given the chance to work with major actors. It's no surprise that he was officially handed the keys to that long-gestating Blade Runner sequel – he's the real deal.
However, Villeneuve has another science fiction film coming our way before he takes us back to the rainy, neon world of Replicants. We've been hearing interesting things about his new alien drama Story of Your Life for a few months now and it looks like Paramount is getting ready to finally start introducing this ambitious-sounding project to the world: it has a new title and a release date.
The Wrap reports that Story of Your Life is now titled Arrival and it will open wide on November 11, 2016. Considering the caliber of the talent involved, this certainly feels like a play to put the film on everyone's Oscar watch list, even if the film's genre is an immediate strike against it in the eyes of many of the people who vote for these things.
Arrival follows an expert linguist, played the wonderful five-time Academy Award nominee Amy Adams, who is recruited by the United States government after an alien spacecraft lands on Earth. Her mission: decipher the extraterrestrial language and determine whether or not these visitors come in peace and or have something more sinister on their minds. The supporting cast includes Oscar nominee Jeremy Renner, Oscar winner Forest Whitaker, and too-good-to-ever-win-an-Oscar-er Michael Stuhlbarg.
I mention those Oscars because this film is stacked with talent and if a gritty and intentionally unpleasant drug war thriller like Sicario can rack up a few nominations, a science fiction drama that sounds like a cousin to masterpieces like Close Encounters of the Third Kind, Contact, and The Abyss may be the rare genre film to garner that kind of attention. The footage that screened at CinemaCon earlier this year was extremely well-received, with our own Peter Sciretta saying it was the highlight of Paramount's panel.
Now that we have that new title and release date, it feels like we should be getting a trailer for Arrival sooner rather than later. Keep your eyes on the sky.