'I, Daniel Blake' Trailer: Director Ken Loach Fights The System With This Palme d'Or-Winning Drama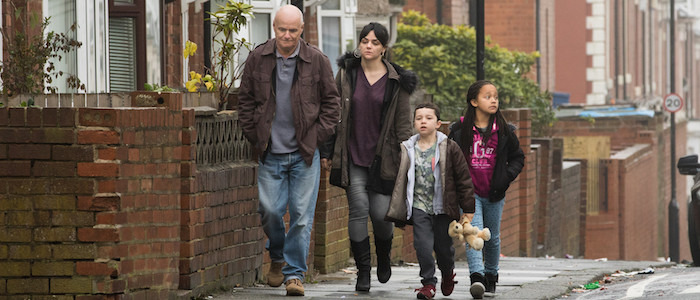 Today is the 80th birthday of director Ken Loach, one of the most prolific and respected filmmakers of the past half-century. The breadth of his filmography is astonishing – between 1967 and 2016, there have only been a handful of years where he didn't have a new film ready to go. Although he's best known amongst cinephiles for his 1969 classic Kes, Loach has continued to earn accolades throughout his entire career, with his 2006 film The Wind That Shakes the Barley taking home the Palme d'Or at theCannes Film Festival.
And then he won the Palme d'Or for a second time earlier this year for his newest film, I, Daniel Blake, making him only the ninth filmmaker to achieve that honor. So happy birthday, Mr. Loach. Let's celebrate it by watching the new trailer for his latest film.
Like just about all of Loach's work, I, Daniel Blake is aggressively political and wears its director's politics proudly on its sleeve. In this case, his target is the English welfare system and the bureaucracy that prevents citizens from getting the assistance they deserve. Although this is a fictional film, the footage in the trailer shows off Loach's naturalistic style, which lends the whole thing the feel of a socially conscious documentary.
I, Daniel Blake received strong reviews out of Cannes, although many critics noted that it seemed like an "obvious" choice for the top prize when compared to other films in the running. Still, it's hard to argue against a filmmaker as well-liked as Loach getting recognized for continuing to turn in fine work this late in his career. Whether you appreciate his films or not (or agree with his politics or not), the fact that he's still working and still garnering raves at 80 is hugely impressive,
Here's the official synopsis for the film:
Daniel Blake (59) has worked as a joiner most of his life in Newcastle. Now, for the first time ever, he needs help from the State. He crosses paths with single mother Katie and her two young children, Daisy and Dylan. Katie's only chance to escape a one-roomed homeless hostel in London has been to accept a flat in a city she doesn't know, some 300 miles away.
Daniel and Katie find themselves in no-man's land, caught on the barbed wire of welfare bureaucracy as played out against the rhetoric of 'striver and skiver' in modern-day Britain.
I, Daniel Blake opens in U.K. theaters October 21, 2016. No U.S. release date has been set yet.