'David Brent: Life On The Road' Trailer: Ricky Gervais Is Just A Man With A Dream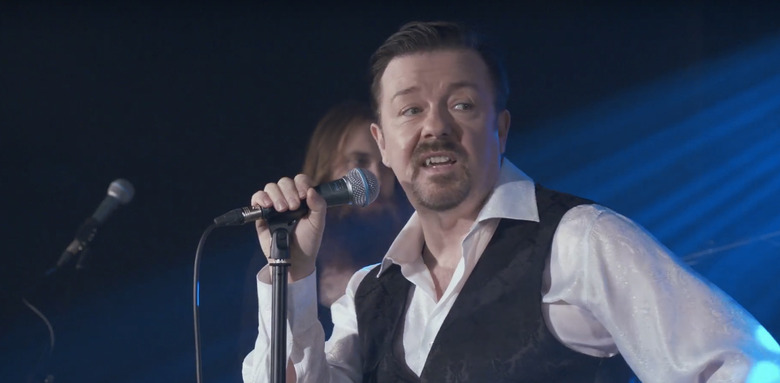 For any fans of the original iteration of The Office, it appears this is as close as we'll get to seeing a film adaptation of the comedy mockumentary series. Comedian Ricky Gervais is back as former Wernham Hogg Paper Company boss David Brent, only this time he's a traveling salesman who is still desperate to follow his dream to become a rock star.
David Brent: Life on the Road is a mockumentary feature that follows the clueless title character as he self-finances a tour across the United Kingdom with his band Foregone Conclusion. As you might expect, audiences aren't so keen to receive the band, and Brent continues to make every situation awkward with his inappropriate sense of humor and complete lack of self-awareness.
Watch the David Brent Life on the Road trailer after the jump.
It's been 12 years since David Brent was on television, and it appears he hasn't learned any lessons. This time, Brent has a whole new crew that will roll their eyes at him. There's Ben Bailey Smith as Dom, forced to rap weird things on tracks like "Equality Street" and more; Tom Basden as the road manager; and We Are Scientists drummer Andy Burrows as the drummer of Foregone Conclusion.
In addition, this is essentially like a sequel to The Office, because we get to spend plenty of time at David Brent's new place of employment as well. At the new office, there's Jo Hartley as Pauline, Tom Bennett as Nigel, Andrew Brooke as Brent's nemesis Jezza, plus Nina Sosanya is playing Brent's much-needed therapist.
Other cast members include Kevin Bishop, Roisin Conaty, Diane Morgan, Ashley McGuire, Alexander Arnold and Mandeep Dhillon, all under the direction of Ricky Gervais, from a script he wrote himself. So if you didn't like the original version of The Office, or you just don't like Ricky Gervais, then this may not be for you.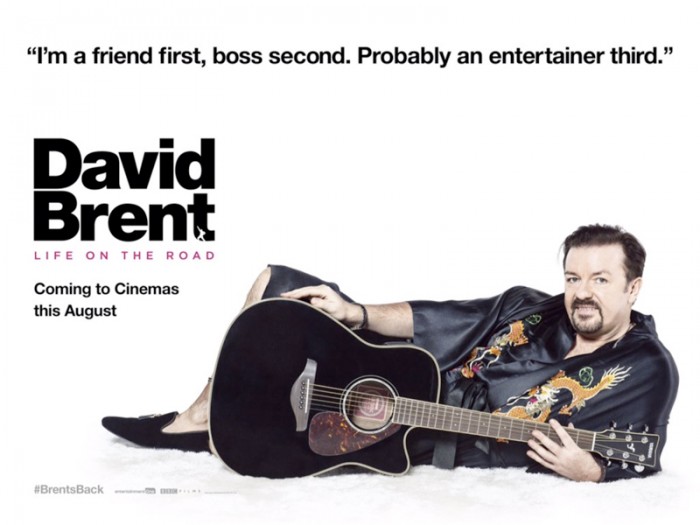 David Brent is now a rep selling cleaning products up and down the country. The thing is he has never really given up the dream of being a rock star, and in this documentary movie we follow his one last shot at fame. We find out what he's been up to since his days at Wernham Hogg and we follow him on the road trying to get a record deal. He puts a band together (a group of mercenary session musicians taking his money with absolutely no love for him or his dream) and ropes poor Dom (a rapper who he was meant to be managing) into coming on tour with him to give him a bit of credibility. Let down after let down, faux pas after faux pas Brent never gives up his dream... just his hard earned money and a cashed in pension to fund the whole folly. With original music by the man himself Life on The Road is like a comedy musical. It's exciting, funny, excruciating and a little sad.
David Brent: Life on the Road hits theaters in the UK, Ireland, Australia and New Zealand in August, but the rest of us in the United States will have to wait until 2017 for it to hit Netflix.