'Outlaws And Angels' Trailer: Finally, Luke Wilson And Chad Michael Murray Play Cowboys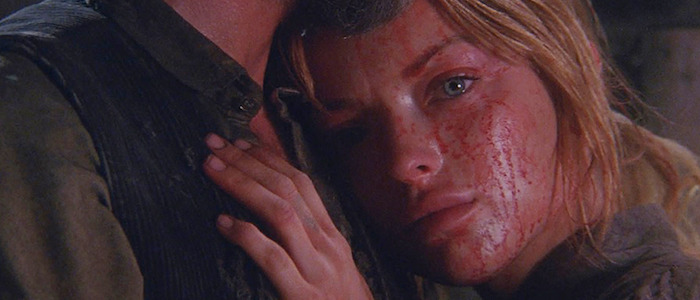 The past year or so has been a fantastic time for fans of offbeat westerns, with a variety of filmmakers taking on this conic genre and giving it a unique twist. The Keeping Room used the genre to craft a low-key feminist thriller. Bone Tomahawk eased you into a traditional The Searchers riff before taking a brutal left turn into hardcore horror. The Hateful Eight was a spectacular exploration of a nation's rotten core. The western may be in recession, but it's never been more interesting than it is right now.
Could Cowboys and Angels continue this trend? The Sundance Film Festival alum hasn't been generating a ton of buzz, but a new trailer has arrived and it looks like it could fall in line with the recent spate of bizarre and bloody westerns.
The feature debut of director J.T. Mollner, Cowboys and Angels follows a gang of outlaws who invade a family's home and get more than they bargained for when one of the women living there decides to join their posse. The trailer promises shoot-outs and sex and violence and the likes of Luke Wilson and Chad Michael Murray playing villains. Based purely on the footage shown here, the film can't hide its low budget, but it also looks just odd enough to be of interest. After all, revenge and the American West go together like chocolate and peanut butter.
The red flag here is that Outlaws and Angels flew under the radar in a big way at Sundance in January and those who did see if came back with heavily mixed reviews. Still, I try to make a habit of checking out as many westerns as I can – this is the quintessential American genre and I'd like to see them continue to get made, thank you very much. I'm reminded of Ti West's In the Valley of Violence,
but am very glad that it simply exists.
Outlaws and Angels also stars Francesca Eastwood (yes, the daughter of Clint), Madisen Beaty, Ben Browder, and Teri Polo and it will be in select theaters and on VOD on July 15, 2016. You can check out the official synopsis and the poster for the film below.
When Outlaws on the lam invade the home of an unsuspecting, seemingly innocent, frontier family to hide out for the night, an unexpected game of cat and mouse ensues, leading to seduction, role reversal, and ultimately, bloody revenge.