Nicole Kidman Joins Colin Farrell In 'The Killing Of A Sacred Deer', From 'The Lobster' Director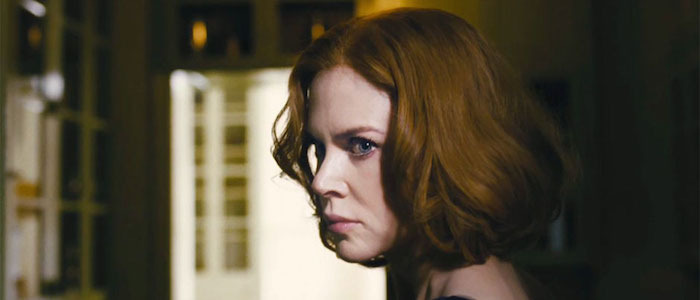 Hollywood often doesn't seem to know what to do with Nicole Kidman and that's shame. When paired with the right material, she's one of the most interesting actresses out there and she only gets more fearless with each passing year. And since it takes that special kind of fearlessness to appear in a Yorgos Lanthimos film, it makes perfect sense that she has joined the cast of The Killing of a Sacred Deer. Delightful, twisted sense.
Variety reports that Kidman is in talks to join the film, which will reunite Lanthimos with Colin Farrell, who recently starred in The Lobster for the Greek director. The Killing of a Sacred Deer appears to be coming together pretty quickly, with A24 already on board as a domestic distributor and a start date coming this August. Here's how Variety describes the project:
Farrell will play a successful surgeon who attempts unsuccessfully to integrate an increasingly sinister teenager into his family. Kidman will play Farrell's wife.
Although the film is being described as a "psychological thriller," it's unlikely that this will be a traditional film by any means. Lanthimos injects his strange, high-concept premises with pitch black comedy and acidic satire, so it's likely that The Killing of a Sacred Deer will be about whole lot more than that longline suggests. Quietly frankly, I've reached the point where I'm prepared to follow Lanthimos just about anywhere. The Lobster and Dogtooth really are that good.
Kidman and Farrell are an interesting pairing because both of them seem to operate best when they're on the fringes and away from the safety and comfort of the mainstream. Each has turned in their best work when they've worked with eclectic directors on risky or strange projects. Farrell has proven time and time again that he's no movie star, but his performances in movies like The Lobster and In Bruges prove that he's one hell of an actor. Kidman is a slightly different case in that she was a big star for some time before stepping out of the spotlight. But in that darkness, she's found extraordinary roles in movies like Rabbit Hole and Stoker. Heck, she's even a ton of fun as the villain in Paddington. You don't star in a movie as bewilderingly wrongheaded as The Paperboy unless you're out to take some interesting risks.
It's not clear when The Killing of a Sacred Deer will be completed, but don't be surprised if it's ready for the festival rounds sometime next year.