Theme Park Bits: Shanghai Disney Land Grand Opening, A Secret Universal Studios Announcement, And A Batch Of Cool Ride Posters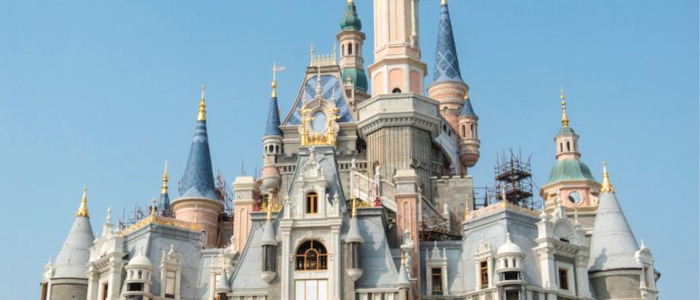 In this edition of Theme Park Bits:
Watch the entire Shanghai Disneyland grand opening gala...
...and the slightly less dynamic resort dedication ceremony.
Universal Studios Hollywood teases a new announcement.
Watch new video of the Tron Lightcycle Power Run ride in action.
Shanghai Disneyland attraction posters are here and they look great.
The Disney company grapples with a series of tragedies.
A cool look at the man behind the new Tomorrowland.
And more!
The Shanghai Disneyland Grand Opening Celebration Gala concluded yesterday and the whole thing has made its way online. The video is in entirely in Chinese, but you don't need to be a native speaker to enjoy the show, which is nothing short of spectacular. Disney theme parks have always been good at creating enormous spectacles like this, but the combination of their traditional brand of magic/technology with elements of Chinese culture makes this entire presentation unlike any other show you've ever seen. It's genuinely lovely.
The Shanghai Disneyland dedication ceremony is also online and while it does feature a fair bit of dancing and some typical Disney extravagance toward the end, the bulk of it is Disney CEO Bob Iger and representatives from the Chinese government speaking to the assembled crowd of dignitaries and special guests. At one point, a letter from President Barack Obama is read to the crowd. For fans of the theme park industry and those with an interest in the ongoing cross-pollination of various world cultures as China emerges as a priority for American entertainment companies, Iger's entire spiel is worth watching (the other speeches are translated as well). If you're just here for the ribbon cutting and a catchy musical revue full of classic Disney characters dancing and carrying large banners representing each "land" in the park, jump to the 25-minute mark of the video.
Since it wouldn't be a Disney theme park without a dedication plaque, here's a shot of the one that can be found at Shanghai Disneyland. It's fairly boilerplate, but it does feature the phrase that has been used time and time again in connection to this park: "authentically Disney and distinctly Chinese."
Chances are strong that you've already seen POV footage from the Tron Lightcycle Power Run roller coaster at Shanghai Disneyland (see above), but ABC News' Bob Woodruff was able to check out the attraction prior to its opening and there is now footage of him riding the attraction. Even from this angle, the ride looks incredibly impressive. Not as intense as roller coasters you'll find at other parks, but beautifully themed and visually stunning, with a genuinely unique ride vehicle. You can watch the video right over here.
As a huge fan of the original poster art that was used to advertise classic Disney theme park attractions like The Haunted Mansion and Pirates of the Caribbean, the new Shanghai Disneyland poster art that has been popping up online has been making me a little giddy. I love how each major attraction (and even a few special areas) have gotten their own poster and I love how each of them is rendered in its own unique style, capturing the distinctly different flavors that each of them offers. Only time will tell if these will become beloved enough to justify selling reprints in gift shops several decades from now, but they really are wonderful.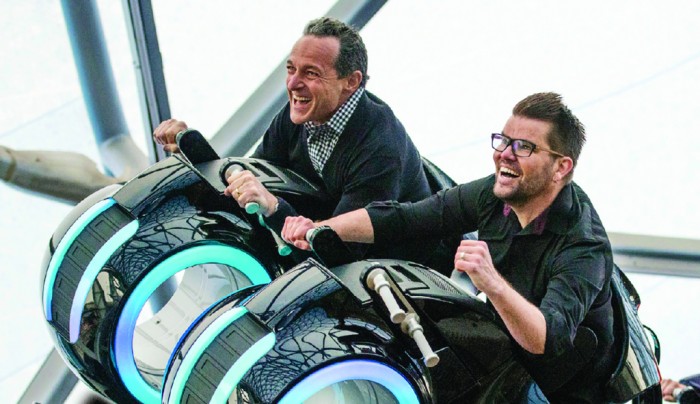 Fortune has a new profile on Scot Drake, the Disney Imagineer who oversaw the construction of the Tomorrowland section of Shanghai Disneyland (which features the above-mentioned Tron ride). Drake moved his family to China three years ago so he could work on this project and he had to overcome some initial hurdles about re-imagining this iconic theme park land for this region:
The biggest challenge we had was, 'How do we tell the story of Tomorrowland in a city that is already the city of the future?' This pushed us to think differently on all levels.
Drake explains that this was a chance to completely reinvent Tomorrowland, an area that has often struggled to remain relevant in other Disney theme parks:
This was the opportunity to design what an optimistic future looks like. We wanted to showcase humanity, nature, and technology in perfect harmony. [...] We got to do this Tomorrowland in a new way, with cutting-edge tools and technologies that didn't exist when Walt built the original.
The entire article, which is full of all kinds of cool details and trivia about the construction and design of Shanghai Disneyland, can be read at the link above.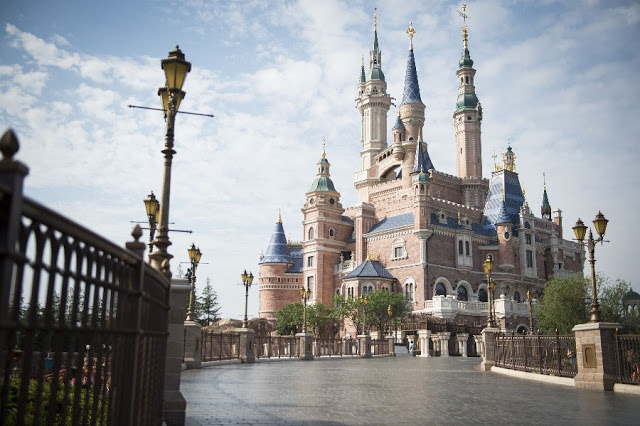 While Disney celebrates the opening of Shanghai Disneyland, the company has also found itself involved in a series of tragedies this week. After the horrific mass shooting that left 49 people dead and 53 wounded at an Orlando, Florida gay club, the Disney company donated $1 million to the OneOrlando Fund, which was established to assist the community and individuals who were impacted by the shooting. Disney also announced that it will match dollar-for-dollar donations that any employees make. In the wake of the shooting, Disney has also announced that security at the Disneyland and Walt Disney World parks will be increased.
Unfortunately, the tragedy does not end there. A toddler was killed earlier this week at Walt Disney World's Grand Floridian hotel when he was attacked by an alligator and dragged into the water. His body was later recovered and Disney has closed its resort beaches until they can guarantee guest safety. Although Disney World has a strict no-swimming policy for its natural bodies of water, the main concern has always been for deadly amoebas that inhabit Florida swampland. The alligator population has always been kept under control by the company's on-site wildlife specialists. This is the only the second time in the resort's 45-year history that a guest has been attacked by an alligator and the first fatality. The sad truth is that this sounds like a freak accident, a pure act of nature for which no one can be blamed for the tragedy. However, we can probably expect the no swimming signs lining resort shorelines to get an update soon.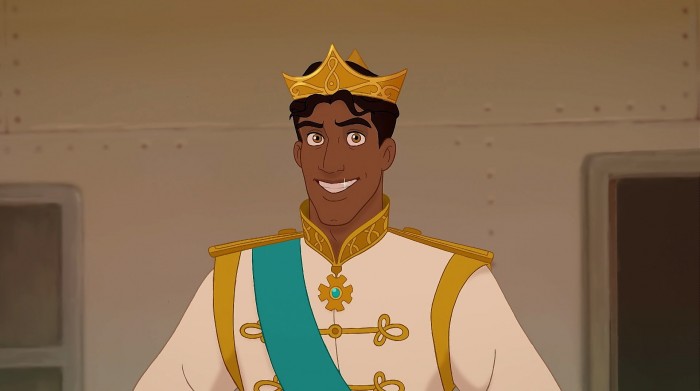 In more frivolous news, today is the final day for guests to meet The Princess and the Frog's Prince Naveen at Walt Disney World. The character is apparently being retired from meet-and-greets, with Princess Tiana being relocated to the Magic Kingdom's Princess Fairytale Hall, where she will be partner with Rapunzel from Tangled. Meanwhile, this is also the final day for Frozen's Anna and Elsa at the Magic Kingdom, as they ever-popular duo are heading to their new home in Epcot in just a few days.
Meanwhile, over in Walt Disney World's Hollywood Studios theme park, the brand new third track at the massively popular Toy Story Midway Mania ride has opened, significantly cutting down the attraction's infamously long lines. You can get a taste of the new track in the video above.
Universal Studios Hollywood will share some exciting news on June 21 on their official YouTube channel at 7:30 AM. Stay tuned!

— IU Archives (@IUArchives) June 14, 2016
While this edition of Theme Park Bits has been heavy on Disney news, Universal Studios gets to slip in right at the end. It seems that Universal Studios Hollywood is gearing up for some kind of big announcement on June 21, but everything is being kept incredibly vague. Here's the official statement:
Stop the presses. On Tuesday, June 21 at 10:30 a.m. ET / 7:30 a.m. PT, Universal Studios Hollywood will share exciting news as The Entertainment Capital of L.A. invites everyone to tune in for the latest happenings at the world-class theme park and adjacent Universal CityWalk.
Although many fans hope that this announcement will involve a new major ride or attraction, the fact that this statement deliberately mentions CityWalk as well as the park itself suggests that this will probably be the grand reveal of a new on-site hotel or some kind of extension to the overall resort.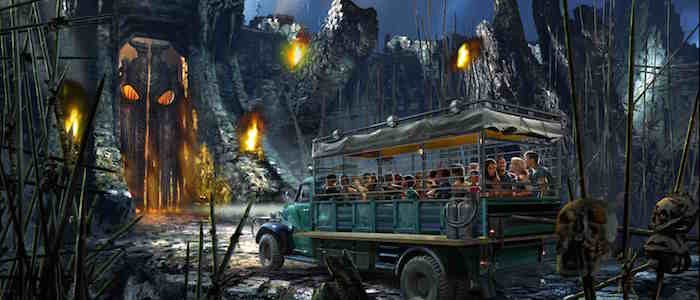 Over on the East Coast, Skull Island: Reign of Kong is still undergoing technical rehearsals at Universal Orlando's Islands of Adventure park and if the stories making their way online are to be believed, the ride is either great or terrible and it's either working brilliantly or not at all. In any case, Universal has started selling a whole bunch of new Kong-themed merchandise in their gift shops, including t-shirts and hats and stuffed gorillas and what-not. These items can be found in the entryway gift shop to the park and at a special souvenir stand located by the ride itself. You can check out images of what's on sale over at Inside the Magic.