Steven Spielberg Promises Not To Kill Harrison Ford In 'Indiana Jones 5'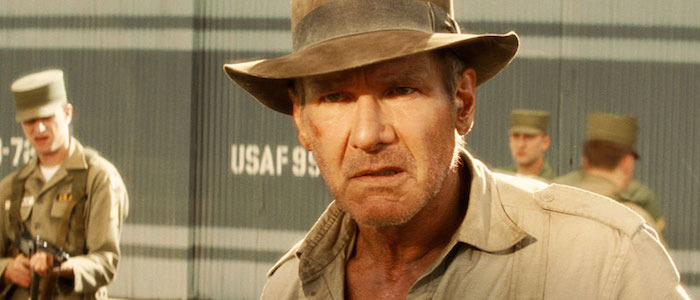 When Steven Spielberg sits down for a full and proper interview, it is our duty as movie fans to pay attention. The greatest filmmaker in modern Hollywood history can often feel a little enigmatic (he doesn't bother with things like DVD commentaries) and getting any kind of window into his process and life feels invaluable. So the arrival of two new profiles on Spielberg, his work, and his various companies is a cause for celebration – both stories are filled with wonderful anecdotes, insights and even a tease or two.
Oh, and Spielberg promises that he won't be killing off Indiana Jones in the upcoming fifth movie.
Both articles come from The Hollywood Reporter and while both are tied to the upcoming release of The BFG, they find room to touch on many corners of Spielberg's career. The first of them, a straightforward Spielberg profile that places on emphasis on his time with DreamWorks and the formation of Amblin Partners, contains this headline-friendly tidbit about Indiana Jones 5:
I think this one is straight down the pike for the fans. The one thing I will tell you is I'm not killing off Harrison [Ford] at the end of it.
That's probably a good thing. Sure, Ford is getting up there in years, but do you really want to live in a world where both Indiana Jones and (spoilers for Star Wars: The Force Awakens spoilers for you weirdo latecomers) Han Solo are both dead? If Indiana Jones 5 exists to make up for the disappointment of Indiana Jones and the Kingdom of the Crystal Skull, then the credits should roll with Indy celebrating one final triumph.
Anyway, Spielberg also spoke about working with Disney to make The BFG, which marked his first time working with the legendary studio. The way he trails off while speaking about the death of Bambi's mother is equally sad and delightful:
I have directed films for every studio in Hollywood except for Walt Disney — until now. Disney was truly, when I was a kid, my singular inspiration and also the source of most of my nightmares. [...] The separation of mother and child ... I mean, the killing of Bambi's — it was just one of the most ...
He also spoke about losing his desire to make movies in the years following Schindler's List:
I was sad and isolated, and as well-received and successful as that movie was, I think it was the trauma of telling the story and forming the Shoah Foundation. [...] I started to wonder, was Schindler's List going to be the last film I would direct?
For much, much more, make sure you read the whole thing. It's not a brisk read, but it's worth it. The second article is shorter but just as interesting, transcribing an interview with Spielberg and frequent collaborators Frank Marshall and Kathleen Kennedy. Although there are scattered tidbits about Jurassic World and its sequel, the most interesting moment involves Spielberg helping convince J.J. Abrams to take the helm of Star Wars: The Force Awakens:
I brought J.J.'s name up. I thought J.J. would be the best person to direct Episode 7 and I called J.J. and said 'Would you do it if it was offered to you?' He said, 'I would but my wife won't let me 'cause she doesn't want me to restart any more franchises.' But I went to Kathy and asked if I could get J.J. to say yes to this would you consider it? Kathy said 'Are you kidding? Of course I would. But why would J.J. do Star Wars; he's already done Mission Impossible and Star Trek.' So I take Katie Abrams and J.J. to dinner that night to Giorgio with my wife, Kate, and right in front of Katie Abrams I popped the question. I said to Katie, 'I think there's a chance that J.J. could direct Star Wars. What do you think of that?' And Katie turned to J.J. and said, 'That would be amazing. Really?' And I went outside the restaurant, picked up my phone, called Kathy and said, "When can we meet with J.J.?" And that's how the whole thing began.
The BFG opens on July 1, 2016. It's a Spielberg movie, so you should probably go see it.