Sylvester Stallone And Director Jim Mickle Are Teaming Up For A Movie That Will Probably Be Pretty Good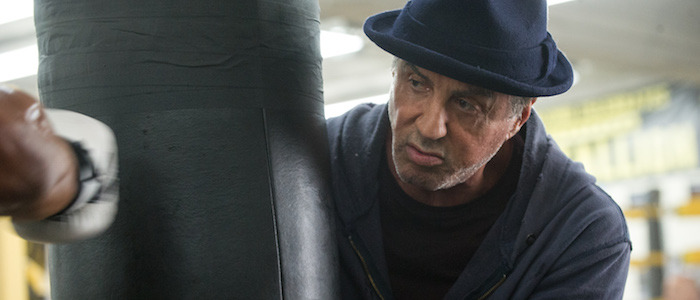 After turning in the best performance of his career in Creed (and earning an Oscar nomination for his troubles), it certainly looks like Sylvester Stallone plans to keep that quality streak going. Why else would he team up with director Jim Mickle, one of the most interested and unheralded filmmakers around at the moment, if he didn't want to make something that is, you know, really good? The aging action star and the Cold in July director are teaming for an untitled thriller and while this collaboration is still in the early stages, you should put this one on your radar.
Deadline has the news about this project, which was written by screenwriter Daniel Casey and was originally titled Godforsaken (although the title will be changed for whatever reason). The site reports that this project was initially teased by Stallone at STX Entertainment's CinemaCon panel a few months ago, but it wasn't clear at the time to what the Rocky and Rambo star was referring. Now we know – a Jim Mickle-directed film that Deadline describes thusly:
Stallone will play an aging ex-con with more regrets than memories. Upon hearing about his son's death his solitude is quickly broken as he must now protect the only family he has left and avenge a son he hardly knew.
While we're up to our knees in "older actors play bloody avengers against those who harmed their family" movies, the combination of Stallone and Mickle make this an immediate item of interest. Stallone because because he has aged into a truly fascinating actor who has been unafraid to showcase a vulnerable and wounded side in his recent work. Mickle because Cold in July is the kind of small, nasty thriller that will become a significant calling card when more people finally get around to checking it out (it's currently streaming on Netflix). By bringing Mickle into the fold, Stallone is showcasing extraordinary good taste and getting a talented filmmaker on his team before everyone else in Hollywood realizes that he's the real deal.
Mickle's other credits include co-creating and directing the new television series Hap and Leonard (which, like Cold in July, is based on the work of author Joe Lansdale), writing and directing the American remake of the cannibal horror film We Are What We Are (which avoids so many of the pitfalls that most horror remakes encounter), and writing and directing the clever vampire movie Stake Land. I cannot wait to see what he does with a huge personality like Stallone.