Star Wars Bits: How Hasbro And Lucasfilm Work Together, 'Star Wars' Video Game Updates, And Impressive New Art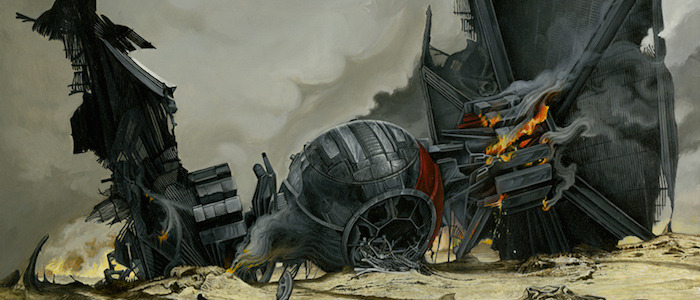 In this edition of Star Wars Bits:
A look at just how much Hasbro knows about Star Wars movies years in advance.
Star Wars: Battlefront teases the Bespin DLC.
Eleven minutes of gameplay footage from LEGO Star Wars: The Force Awakens.
An interview with "Snap" Wexley actor Greg Grunberg.
A bunch of new (and pricey) Star Wars art.
Some seriously impressive LEGO recreations of The Force Awakens vehicles.
A wacky fan theory that ties The Force Awakens to LEGO Star Wars: The Freemaker Adventures.
Check out the first five pages of Marvel's Han Solo comic.
And more!
Tech Insider has published a very good profile on Hasbro production design manager Bill Rawley and it's a weird window into the close ties between movie studios and toymakers. Star Wars merchandise is big business and in order to provide the right toys and goods to feed the beast that is fandom, there needs to be open lines of communication between companies. In this particular case, this means Rawley and other members of the Hasbro team learning the plot of Star Wars: The Force Awakens long before anyone else not on Lucasfilm or Disney's payroll:
We do get information really early and we'll send team members out to Disney to do script reads so that we understand stories so that we can put our toys in context with the story and we cannot share any of that information with anyone. Even internally in the building, designers and people on other groups, we can't really talk to them about it. It's on a need-to-know [basis]. If they're working on products that are influenced by the story, we'll let them know some story elements but a lot of times we don't even share the full story with the rest of the teams because they don't need to know that Han Solo doesn't make it through the movie.
Rawley even explains that he knew the fate of Han Solo for two years before the movie hit theaters:
For example, and spoiler alert if you didn't see Episode VII, Han Solo's death, I knew that for two years and I couldn't tell anyone, not even my wife.
So as the Rogue One toys start to populate toy aisles near you in a few months, remember that the decisions about who gets figures and what gets highlighted are being made by people who know far more about what's going than you. In fact, the article notes that Hasbro is already hard at work on products tied to Star Wars: Episode 8.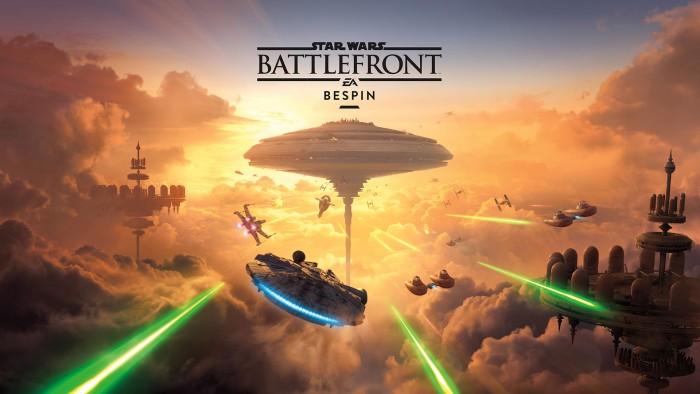 Electronic Arts has revealed new key art for upcoming Bespin DLV for Star Wars: Battlefront, which will allow players to control Lando Calrissian and Dengar the bounty hunter as they battle for control of Cloud City. The expansion will also include a variety of new weapons and character abilities, giving you another reason to fire the game up once more. Here's how EA describes the the pack:
Join legendary smuggler Lando Calrissian and cold-blooded bounty hunter Dengar in the Cloud City of Bespin. Take to the skies in the new cloud car vehicle and journey through Cloud City and the Administrator's Palace. The Bespin digital expansion will feature two new blasters to add to your arsenal. No matter your preference of short or long range combat, there will be something new to try out in Cloud City. Hunt enemies within the Bioniip Laboratories or carbon-freezing chambers with the new X-8 Night Sniper and EE-4 blasters.
Lando and Dengar both feature new traits that will give them unique gameplay abilities. Dengar is a villain that thrives on being in a fight. He wields the DLT-19, which makes him the first Hero with a heavy blaster so far. Lando is very skilled with a blaster too, but his greatest talent comes from knowing the odds and using tricks against his enemies.
The Bespin DLC will be available to season pass holders on June 21 before going on sale for everyone else two weeks later.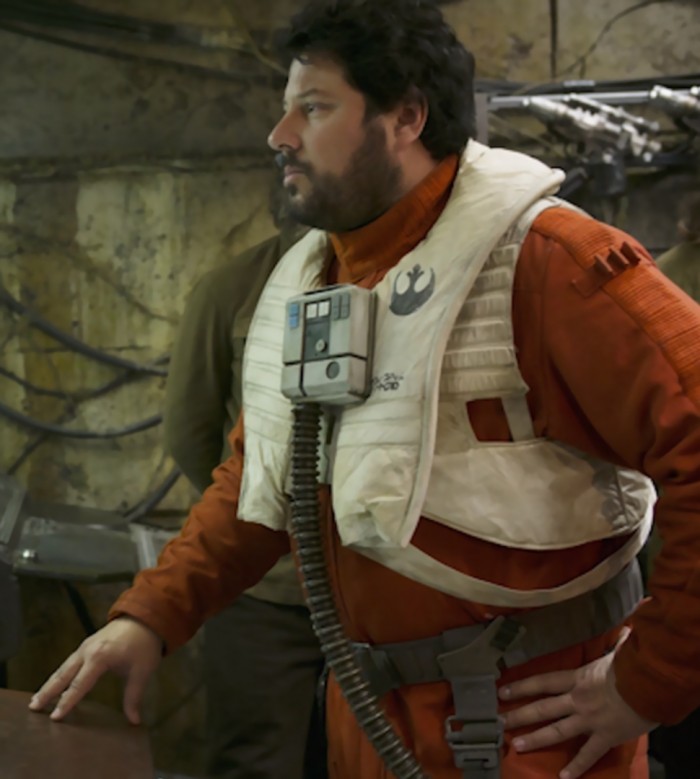 StarWars.com has posted a fun interview with Greg Grunberg, who plays Resistance pilot Temmin "Snap" Wexley in Star Wars: The Force Awakens. Although Grunberg is a recognizable character actor with his fair share of credits to his name, he is a longtime friend of J.J. Abrams and has appeared in just about everything he's made. Naturally, this led to him getting to calling up his old buddy and begging for a part in the seventh Star Wars movie after he landed the job:
I didn't know that my autodial worked with my brain! I didn't even have to dial the phone, man! First of all, he was undecided. It was a huge undertaking, so Kathleen Kennedy sealed the deal and when he told me, I was just so excited for him. Seriously! Usually it goes to a selfish place immediately, like "I'VE GOT TO BE IN THIS," but I just couldn't believe that he was being given the keys to the crowning jewel of all films. It blew me away.
And then, of course, I hung up the phone and I was like, "Wait a minute!" And I called him back and said, "Listen, there's GOT to be something for me!"
Grunberg also spoke about getting to interact with iconic characters and work with legendary actors on the set, singling out two original trilogy actors in particular:
The ones that you hear the most lore or the most stories about are usually the ones that are so awesome, and just immediately break all the walls between you and them, and here that was Carrie Fisher. She is the greatest, she's the most fun, and there's just no pretense. But Harrison Ford is the most professional actor I've worked with.
You can read the whole interview, which is bubbling with infectious enthusiasm, at the link above.
ACME Limited has unveiled a new set of Star Wars art and if you have between $245 and $400 to spend on stuff to hang on your walls, happy shopping! From left to right in the gallery above, the pieces are "First Order Ren" by Mike Kungl, "I've Always Wanted to Fly One of These Things" by Damien Friesz, "Gambler's Rush" by Raymond Swanland, "Energy Surrounds Us" by Joel Payne, "My Only Hope" by C.M. Cooper, and and "Yoda" by Damien Friesz.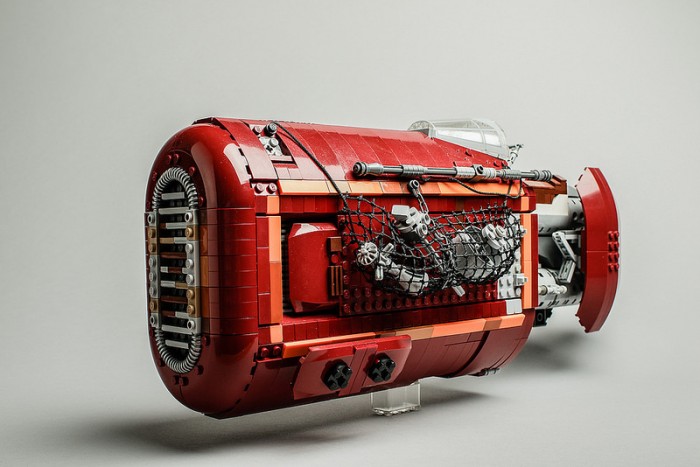 LEGO builder Robert Lundmark has constructed some wonderfully realized recreations of vehicles and creatures from Star Wars: The Force Awakens, including Rey's Speeder, Poe Dameron's X-Wing, and Teedo and his Luggabeast. For a gigantic gallery of photos, including additional samples of Lundmark's Star Wars-related work drawn from the other six films in the saga, you can visit his Flickr page.
Candace "Chewbacca Mom" Payne recently attended the Dallas Fan Expo, where she charged visitors $20 for an autograph. This is on top of the estimated $400,000 she has received in gifts and swag and and free college tuition for her kids (seriously). That sound you hear is her fifteen minutes of fame starting to tick toward the finish line – she's milking her time as a quasi-celebrity for all it is worth. And you know what? If people really want to pay twenty bucks to get her John Hancock, then why the heck not? Go for it, Chewbacca Mom. Do your thing. Bring in that green. It's what Han Solo would do.
One of the more frustrating unanswered elements from Star Wars: The Force Awakens is the question of how Maz Kanata acquired Luke Skywalker's long-lost lightsaber in the first place. It's especially frustrating because she is directly asked about it and blows it off entirely. Anyway, Talk Star Wars has shared a slightly batty theory that supposes that the new LEGO Star Wars: The Freemaker Adventures (see the trailer above) may explain how she came to possess this legendary weapon. The series follows a family as they attempt to hunt down the Kyber Saber, a legendary lightsaber that was broken into pieces many years ago and that's where the theory picks up:
I suspect one of the Kyber Saber's crystals was at the heart of Anakin Skywalker's Lightsaber. It's unique qualities calling to the Chosen One through the Force. As we know, this weapon passed form Anakin to Obi-Wan to Luke and was then lost in the duel at Bespin's Cloud City. We see Cloud City in this trailer as the Freemakers embark on their journey to locate the Kyber Saber's crystals. Are the Freemakers there to secure the Skywalker Lightsaber? We also see what appears to be Luke, Chewbacca and Lando in this trailer. Our familiar heroes joining the effort to protect these ancient crystals.
There is another familiar face in this trailer, apparently negotiating with a Hutt who appears to be in possession of one of the crystals. That character is Maz Kanata. Is this how and why Maz ends up with the Skywalker Lightsaber? Is she entrusted with the Skywalker Lightsaber to protect the Kyber Saber crystal that lay inside? Does the Skywalker Lightsaber call to Rey because she too is a Child Of The Force like Anakin?
You can read the whole thing at the link above if you want to take a deep dive into it all. Although it seems unlikely that Lucasfilm would bury an answer to a seemingly pressing Star Wars lore question in a LEGO Star Wars television series, it wouldn't surprise me in the slightest to learn that Episode 8 plans to dodge this question entirely to focus on other things, which means that something else in the new canon would have to fill in this particular gap. So there you go. Food for speculation.
Eleven minutes of LEGO Star Wars: The Force Awakens gameplay footage has arrived online, offering an extended look at the level where Han Solo and the rest of the gang must escape on the Millennium Falcon after those Rathtars are unleashed. For the most part, this looks like just another LEGO game (albeit one that now features cover-based shooting mechanics), which isn't necessarily a bad thing. You probably know by now whether or not these LEGO games are your cup of tea or not.
The Star Wars Explained YouTube channel has dedicated a new episode to the life and career of bounty hunter Aurra Sing, who began her existence as a background character in Star Wars: Episode I – The Phantom Menace before becoming a recurring villain on Star Wars: The Clone Wars. This is one of the all-time great examples of the Star Wars saga fleshing out every detail of its intricate universe. There are no extras, only heroes and villains and rogues awaiting a proper backstory.
The first issue of Marvel's Han Solo miniseries hits shelves this Wednesday, June 15, and the first five pages have arrived online if you want a taste of what to expect. The series written by Marjorie Liu and drawn by Mark Brooks and if it's anything like the rest the current Star Wars comics, it will be well worth your time and money.