'Kevin Hart: What Now' Trailer: The Comedian Plays To A Sold Out Football Stadium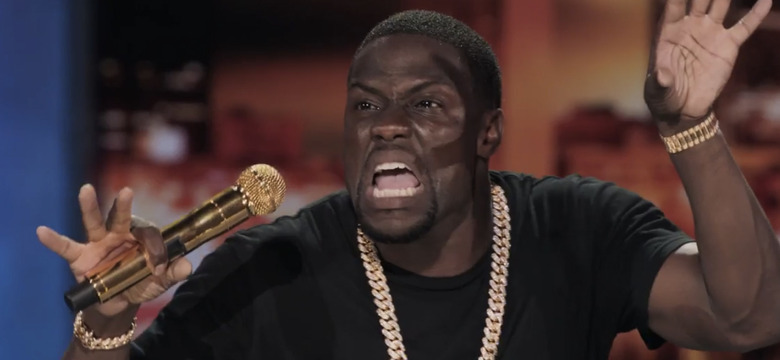 This coming weekend, we'll see Kevin Hart get into action with Dwayne Johnson in Central Intelligence. They must have found some magic while making the movie, because they're already slated to team up again in the reboot of Jumanji, with Jack Black joining them. But before they roll the dice, Hart will be on the big screen all by himself with a new theatrically released stand-up special.
Kevin Hart: What Now sees the comedian continuing to follow in the footsteps of comedians such as Richard Pryor, Eddie Murphy and Martin Lawrence by bringing his stand-up comedy to as many people as possible by way of movie theaters. If you want to see what kind of laughs Hart has in store this time, watch the Kevin Hart What Now trailer after the jump.
Here's the Kevin Hart What Now trailer straight from Universal:
Previously, Kevin Hart: Let Me Explain took in $32 million in the United States, making it the third-highest grossing solo stand-up feature of all time, just behind Eddie Murphy Raw and Richard Pryor: Live on the Sunset Strip. It's the fourth-highest grossing overall stand-up feature with The Original Kings of Comedy taking the #3 spot. With attention like that, it's no surprise that Universal wanted to get Kevin Hart back in theaters with his trademark comedy.
As someone who only enjoys Kevin Hart in small doses, I can't say that I'm excited to see his latest stand-up special. It's difficult to get past just how much yelling and screaming he does on stage. I know his obnoxious, loud persona cracks people up, and part of just how wired he is on stage helps that, but for me, it's just too much. In this trailer there's even a brief stretch of cuts where it's just Hart making random loud noises.
Of course, this is something that's being done just for his fans. Surely there are plenty of people who didn't catch him on tour or didn't get a ticket to this sold out football stadium performance from last August (something that hadn't been done before by a comedian apparently), and they'll be willing to pay for a ticket to see it in theaters. But I won't be one of them.
Comedic rock-star Kevin Hart (Ride Along, Get Hard, Central Intelligence) follows up his 2013 hit stand-up concert movie Let Me Explain, which grossed $32 million domestically and became the third-highest live stand-up comedy movie of all time. Hart takes center stage in this groundbreaking, record-setting, sold-out performance of "What Now?"—filmed outdoors in front of 50,000 people at Philadelphia's Lincoln Financial Field—marking the first time a comedian has ever performed to an at-capacity football stadium.
Kevin Hart: What Now? opens in theaters everywhere on October 14.