Nick Kroll & John Mulaney Will Go Through Puberty In Netflix Animated Series 'Big Mouth'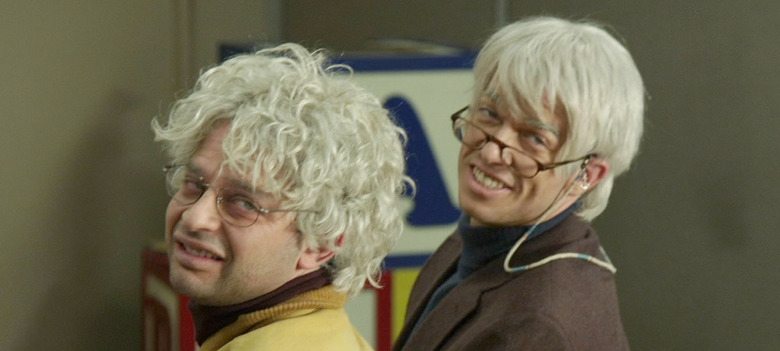 Comedians Nick Kroll and John Mulaney have been friends and collaborators for a long time. In addition to having a history in sketch comedy, the two also teamed up for a series of sketches on The Kroll Show called "Oh, Hello," which eventually became a stage show that toured the country this year. Now they're teaming up again.
Nick Kroll and John Mulaney will voice the two lead characters in Big Mouth, a new animated series that Netflix just picked up. The series won't be following their "Oh, Hello" alter egos Gil Faizon and George St. Geegland (seen above), but instead will see the two comedians as teenagers Nick and Andrew as they have various adventures while going through puberty.
Find out more about the Big Mouth animated series after the jump.
Netflix has announced an order of 10 episodes of Big Mouth, a series inspired by the childhood of real-life best friends Nick Kroll and Andrew Goldberg, the former assistant to Seth MacFarlane who went on to become a story editor, supervising producer, writer and co-executive producer on Family Guy. As Cindy Holland, Netflix VP of original content, says:
There are few things that keep me up at night....Nick Kroll's adventures in puberty is one of them, so we greenlit this series with very few questions asked.
Kroll echoes her sentiments by adding that he "can't wait to tell all the stories that make up the glorious nightmare of puberty." One of their memories that we'll see played out apparently includes "a lip-sync performance of Queen's 'Don't Stop Me Now' at Camp Wildwood in 1992 which they call legendary and infamous to this day." And when you hear who else is involved with this project, you should be even more pumped.
In addition to Kroll and Mulaney leading the show, the rest of the voice cast includes Maya Rudolph (Bridesmaids), Jason Mantzoukas (The League), Jordan Peele (Key and Peele), Fred Armisen (Portlandia), Jenny Slate (Girls) and Jessi Klein (Inside Amy Schumer). That's some prime comedic talent right there, and surely there will be plenty of guest stars adding to the fun as well.
The bad news is that we'll be waiting a little while before we see the series on Netflix, because it's not slated to premiere until 2017. But if it's anywhere near as good as Netflix's other adult animated fare like Will Arnett's Bojack Horseman and Bill Burr's F is For Family, then this should be something worth waiting for.