'Ice Age: Collision Course': Get A Look At Neil deGrasse Tyson As A Weasel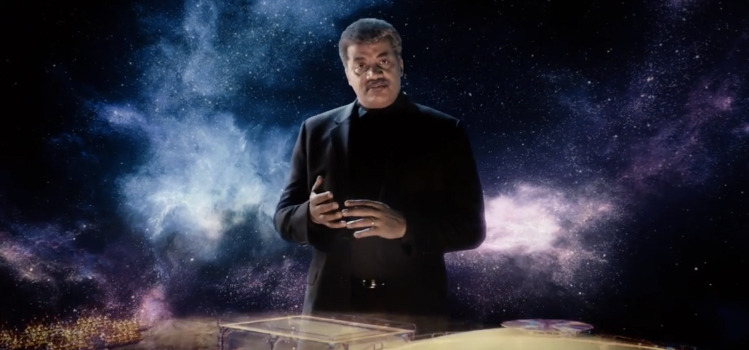 Astrophysicist Neil deGrasse Tyson has taken it upon himself to point out the scientific inaccuracy of some sci-fi movies, taking some of the fun out of the fiction part of the genre. However, it'll be interesting to see if he goes out of his way to point out the inaccuracies in the forthcoming animated sequel Ice Age: Collision Course, especially since he'll have a small role in the movie, appearing as an anthropomorphic animal version of himself.
Get a first look at Neil deGrasse Tyson in Ice Age Collision Course after the jump.
Entertainment Weekly revealed these two photos of Neil deGrasse Tyson's Ice Age character:
The weasel's name is Neil deBuck Weasel, which doesn't sound like the most clever alternative for the scientist's name, but in the end it doesn't really matter since the character is only imagined by Buck, the character voiced by Simon Pegg. Even though the weasel is just a figment of Buck's imagination, somehow he helps the gang attempt to stop an asteroid from destroying the planet.
Try not to laugh when you hear this, but in addition to lending his voice to the film, he apparently offered some of his own knowledge to help give the movie "some actual, if infrequent, scientific grounding whenever possible." Just thinking about that is funnier than all of Adam Sandler's movies from the past 10 years. Director Michael Thurmeier explained:
"We were asking him questions all the time. We're in the booth, we get to a scene and say, 'Here's what we're thinking,' and he's like, 'Okay, that could work because, you know, this is actually the mineral make-up of asteroids in space.' We were mining him for information for whatever scientific plausibility we could put into the story of mammoths stopping an asteroid."
Ray Romano, John Leguizamo, and Dennis Leary are back as the three main characters with Queen Latifah, Sean William Scott, Josh Peck, Wanda Sykes, Jennifer Lopez, Simon Pegg, and Keke Palmer all reprising their characters from previous sequels. Meanwhile, Jesse Tyler Ferguson, Max Greenfield, Michael Strahan, Melissa Rauch, Jessie J, Adam DeVine, Stephanie Beatriz, and Nick Offerman all play new characters. See what's in store for our friends this time in the latest trailer right here.
Scrat's epic pursuit of the elusive acorn catapults him into the universe where he accidentally sets off a series of cosmic events that transform and threaten the Ice Age World. To save themselves, Sid, Manny, Diego, and the rest of the herd must leave their home and embark on a quest full of comedy and adventure, traveling to exotic new lands and encountering a host of colorful new characters.
Ice Age: Collision Course crashes into theaters on July 22.