'Finding Dory' Early Buzz: The Sequel Swims Just As Well As The Original, Will Make You Cry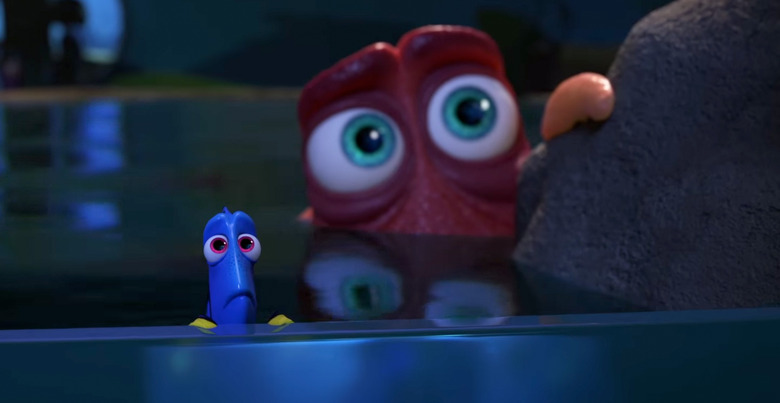 Finding Dory doesn't arrive in theaters until next weekend, but a slew of press and critics have already seen the movie as they participate in press junkets with the cast and crew. Today reviews started hitting the web, and for the most part, it seems the follow-up to Finding Nemo is a worthy successor to the original undersea adventure, though it treads much of the same water. For many, it seems to be just as good as the original, inspiring some tears to roll, but there are a few who weren't as impressed.
Check out the Finding Dory reviews and early buzz after the jump.
Our own Peter Sciretta just published his review today, saying:
So how does it compare against its predecessor? In its best moments, Dory is more emotional and funnier than its predecessor. The movie feels more of a result of Pixar 2.0, somehow a more complex and layered adventure.
But my biggest issue with film it is that once the story reaches its logical and emotional conclusion, it doesn't end. The story continues for another twenty or so minutes and the tone of the film changes drastically from dramatic and heartwarming to wacky.
Matt Singer over at ScreenCrush writes:
Like so many of the studio's previous features, Dory is a story about the unbreakable bonds between parents and children, mismatched partners bonding over the course of a long adventure, and the pleasures of a team working together to achieve a common goal.
After 21 years, that formula is still very satisfying. But it also feels more like a formula than ever before. We love Pixar not only for the way they make us laugh and tug at our heartstrings, but also for their innovations along the way. In Finding Dory, the scene that sums everything up is the one where Dory, Marlin, and Nemo hitch a ride on an ocean current with a bunch of cool sea turtles. It's an echo of a very similar sequence from Finding Nemo, and it observes its characters having a grand old time as they happily coast along.
Mike Ryan over at Uproxx thinks it's just as good as Finding Nemo and cried a lot:
Before watching Finding Dory, I worried that Dory's short-term memory loss issue would grow, let's say, tiresome. Strangely, there were a couple of times in the first half I found myself thinking, Okay, I get it, but by the excellent second half of the film, I didn't care. (Boy, that second half just pops.) It's never dropped, but it just becomes more part of the story, as opposed to a character trait.
I never thought I wanted a sequel to Finding Nemo, but here we are and I'm pretty happy it exists. And, again, for me, it was a more emotional experience than the first film. Finding Dory got me – it made me cry.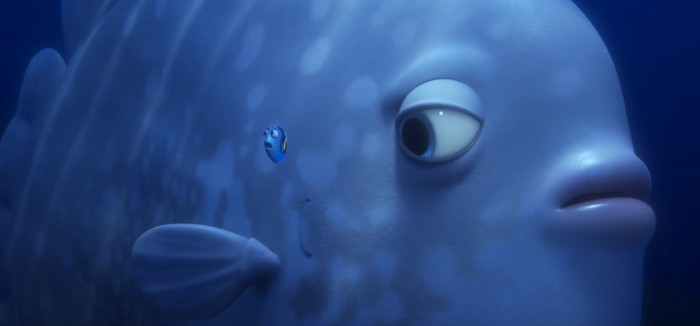 Owen Gleiberman at Variety had plenty of praise to throw at the sequel:
Andrew Stanton and Angus MacLane, the co-directors of "Finding Dory," have made a beautiful, rambunctious, and fully felt sequel — a movie totally worth its salt water. It's a film that spills over with laughs (most of them good, a few of them shticky) and tears (all of them earned), supporting characters who are meant to slay us (and mostly do) with their irascible sharp tongues, and dizzyingly extended flights of physical comedy. The images never stop dazzling us with their awesome, tactile sheen ­— their oceanic incandescence...In a summer of tepid and disappointing sequels, audiences from around the world will be grateful to encounter a sequel to a film as beloved as "Finding Nemo" that more than lives up to the first movie's casually magical charms.
Alonso Duraide at The Wrap wasn't as tearful, but still found a lot to love:
Finding Dory" never quite hits that sweet spot of sadness. The film definitely pushes our buttons as it portrays loss and separation, but it never slows down enough to let us ache.
Even so, "Finding Dory" is rousingly entertaining, with side-jokes and supporting characters that will take their place in the pantheon alongside the "Mine! Mine!" seagulls and surfer-dude turtles (both factions turn up briefly here) from the original. In a year full of sequels nobody really wanted, this is one that deserves to be mentioned in the same breath as the first one; for that alone, it just keeps swimming against the current.
David Ehrlich over at IndieWire writes:
"Finding Dory," which inverts the story of the original by following a fish as she tries to relocate her parents, isn't enough to undo the damage caused by years of second-tier efforts — nor is it enough to change the fact that Pixar sequels remain inherently frustrating because audiences think of the studio as one of the few capable of creating rich new film worlds. But "Finding Dory" doesn't feel lazy, cynical, or like a rehash. On the contrary, it does what a sequel should — it's a compelling argument for why we make them in the first place.
At times, Dory's relentless travels around the Marine Life Institute become so frantic that the movie threatens to lose its moorings, but Stanton sticks the landing for a brilliant climactic chase in which all of Dory's new friends come together for one perfect moment. Still, it's hard to shake the feeling that "Finding Dory" is moving so fast because it doesn't want viewers to notice how familiar the scenery looks — even in its best moments, the film lacks the knockout creativity upon which Pixar has built its brand.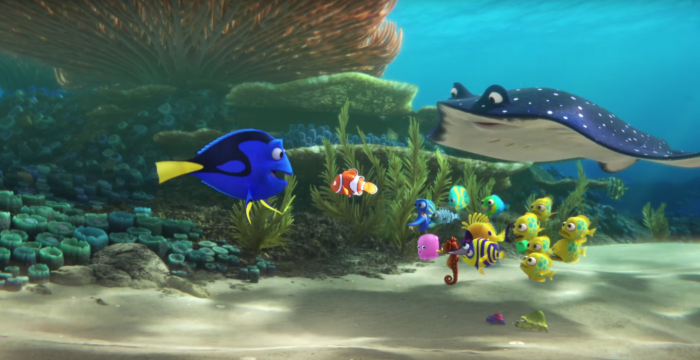 However, Brian Truitt at USA Today wasn't as impressed as everyone else:
There was a joy in exploring the never-ending ocean and its colorful inhabitants in Finding Nemo, but that's missing in Dory. Also, the follow-up has an uneven tone overall — Marlin and Nemo are in the movie just to argue with each other, and Dory's amnesia schtick gets old quickly. Yet DeGeneres adds a youthful naivete and innocence that at times makes Dory the funniest character in the film, like when she almost gets accidentally pulled into a sex-ed talk with a bunch of little fishes.
Outside of Toy Story, Pixar hasn't found the right formula in its sequels to repeat the success of its original classics. Mark Finding Dory down as another that falls short of unforgettable.
And Todd McCarthy over at The Hollywood Reporter wasn't that much of a fan either:
Feeling driven more by commercial exigencies than by vital creative impulses, this 13-years-after follow-up to Pixar's fifth feature serves up enough shards of humor and visual distractions to keep small-fry happy. But its thematic preoccupation with "family" is so narrow, and its sense of narrative invention is so limited compared to Finding Nemo, that impatience surpasses enjoyment well before the predictable climax.
While rambunctious and passably humorous, this offspring isn't nearly as imaginative and nimble-minded as the forerunner that spawned it.
***
Overall, this sounds like the best Pixar sequel outside of the Toy Story franchise, one that may help make up for the less impressive sequels that have followed their other original films. At the very least, Finding Dory seems to be just as good as the first, even if it feels a little too familiar at times. As expected, Pixar knows how to pull on your heartstrings, and they took a character that seemed like she could only be tolerated in small doses and made us love her even more.
We'll find out soon enough when Finding Dory hits theaters on June 17.