Sharon Stone Teases Marvel Universe Role Again, And We're A Bit Confused Now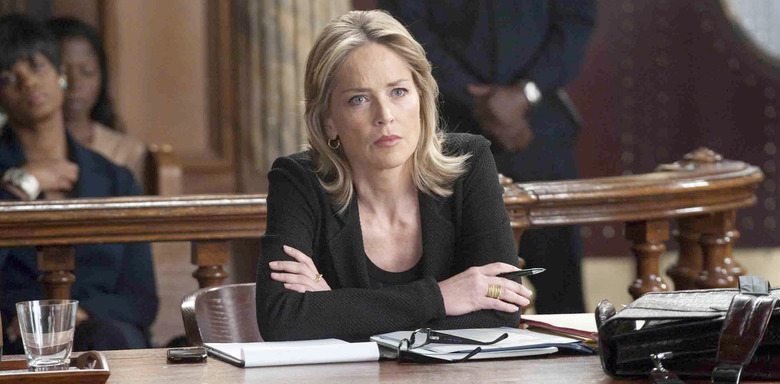 Over a month ago, some surprising casting news revealed that Sharon Stone was slated to have what she called a "wee part" in a future Marvel Studios title. Her wording had plenty (including ourselves) guessing that she would be taking a role in Ant-Man and the Wasp, the sequel to last year's franchise starter starring Paul Rudd. More specifically, we thought it would be a good idea for her to play Janet Van Dyne, the original iteration of The Wasp who was hinted to still be alive in the first film.
Now Sharon Stone has revealed a little hint about her character, but rather than feeding into our theories, it's actually a little confusing. But it doesn't completely debunk everyone's guesses either. Find out more about the Sharon Stone Marvel role after the jump.
In a feature story from AARP magazine (which is surprising because it's an unlikely source and I didn't know they had a magazine), actresses Sharon Stone, Alfre Woodard and Jane Fonda are interviewed about their careers, and the story mentions two of those stars heading into the Marvel universe:
Meanwhile, Woodard and Stone are about to become very familiar to the highly sought-after comic-book-film crowd: Woodard's character is a villain in Marvel's anticipated Netflix series Luke Cage; Stone has been cast as a superhero — she'll only reveal that her secret power is heat — in a yet-to-be-named movie, also for Marvel.
Her secret power is heat? Well, there aren't too many female superheroes who have heat as their superpower and who seem like they would be decent fits in any of the forthcoming Marvel movies. However, the Wasp does have a sting that is essentially an energy blast, so it stands to reason that power could be described as heat. Or maybe the Wasp's abilities are being changed a bit for the movie and she has a sting that, when activated, actually can heat up and burn whatever it's touching. That could be helpful, especially when trying to break into or out of places.
Then again, maybe we're completely off-base and we have no idea what role Sharon Stone will play in the Marvel cinematic universe. However, since casting her as Michael Douglas' wife would be great after having them play opposite each other in Basic Instinct, we're going to stick to that prediction for the time being.