Disney Is Currently Testing Interactive 'Star Wars' Droids For Its Theme Parks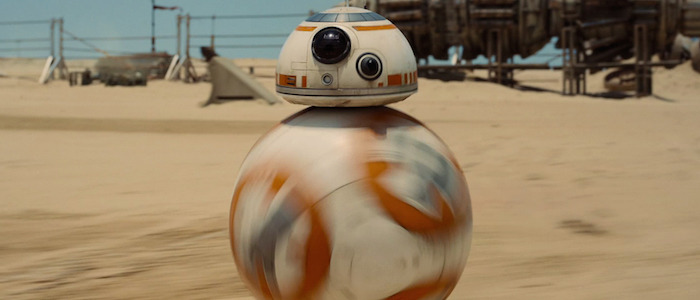 We all know that Disney's Star Wars theme park lands are going to be immersive. Specifically, we all know that they have to be immersive at the bare minimum if they want to compete with Universal Studios' Wizarding World of Harry Potter, the current high water mark in theme park design. Knowing Disney, they will go out of their way and spend a lot of money to fight back against that boy wizard and reclaim their position at the top of this particular food chain. This theme park cold war is going to result in some mighty fine work. Whoever wins, we win.
While the two unnamed Star Wars lands are currently little more than big piles of dirt at both Disneyland and Walt Disney World, a new video has given us a taste of just how far they may be willing push to the immersion factor. How about droids wandering the area, integrating with guests and their environment?
The YouTube Channel DAPs Magic has footage of a droid wandering around the Star Wars Launch Bay exhibit at Disneyland and it's pretty obvious that the Disney Imagineers are testing the waters for something bigger. It's not clear if this little guy is being controlled via remote control or if he's semi-autonomous and is essentially a next-generation Roomba, but we do know that his name is Jake and that he's adorable in that typical Star Wars droid fashion. If this is the kind of tech Disney is testing out in the parks years before the actual Star Wars lands take shape, I can't wait to see what they bring to the actual opening.
We already know that each Star Wars land will be an alien spaceport, a neutral location that will allow characters and ships from across the galaxy (and the canon) to gather in one place and interact with fans. In addition to two major rides, the area will include shopping and dining opportunities where each cast member (employee in Disney-speak) is "in character" as a citizen of the port. And it wouldn't be a spaceport without droids rolling around all over the place. However, the final version of these will probably be accompanied by a guard of some sort. It may be the happiest place on Earth, but the stories of guests assaulting costumed characters at Disneyland are legendary. A tiny little robot will never survive on its own.
In the meantime, we can look forward to the opening of Walt Disney World's Avatar-themed land at their Animal Kingdom park in Florida. Whether you like that movie or not, it should give us an idea of what kind of technology and theming we can expect from Star Wars land down the road.