Ron Howard Reuniting With 'Apollo 13' Writer For Neal Stephenson's 'Seveneves'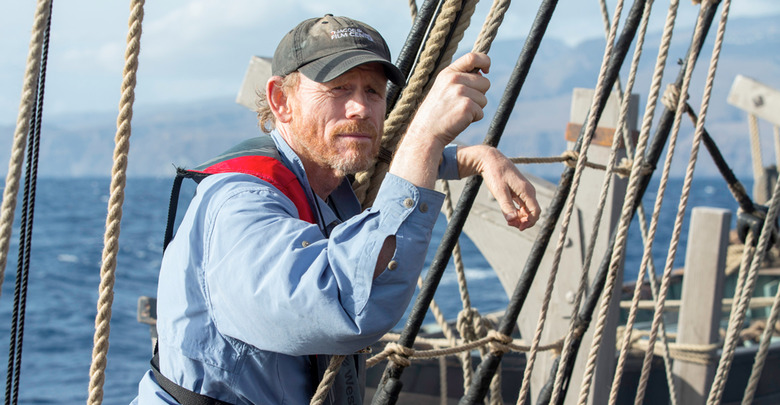 Ron Howard likes to mix things up. He's done sports movies and survival dramas and biopics and comedies, and his latest effort is a conspiracy thriller based on Dan Brown's Inferno. Now for his next move, he's making a foray into sci-fi. Howard is reuniting with Apollo 13 screenwriter William Broyles Jr. for Seveneves, based on Neal Stephenson's 2015 book. Skydance's David Ellison and Dana Goldberg will produce the project, along with Howard and his Imagine Entertainment partner Brian Grazer. 
Published in 2015, Stephenson's novel begins with a catastrophic event that has rendered the Earth uninhabitable. To ensure the survival of the species, humanity has banded together to send some of the population into outer space. 5,000 years later, the descendants of those original explorers — who now number 3 billion, across seven different species — set out on an audacious journey back toward Earth. The story is more sci-fi-oriented than we're used to seeing from Howard, although he isn't completely new to the genre — he directed 1985's Cocoon.
Howard's last release, In the Heart of the Sea, flopped hard. It grossed just $93 million worldwide, against a budget of $100 million, and didn't get much in the way of critical love or awards attention either. But he'll have a chance to bounce back this fall with Inferno, the third entry in the thriller franchise that started with 2006's The Da Vinci Code. Also coming up from him is Genius, a National Geographic pilot about the world's greatest innovators. The first season of the anthology series focuses on Albert Einstein. Oh, and he'll surely be involved in the fifth season of Netflix's Arrested Development, whenever that gets going.
Broyles' credits since Apollo 13 include Cast Away, Planet of the Apes, The Polar Express, Jarhead, and Flags of Our Fathers. He has the Navy SEAL drama Six coming soon from History Channel.
There's no word yet on when Seveneves will get going, but if Howard makes it his next feature film we can expect to get some updates sooner rather than later. In the meantime, his Inferno hits theaters October 28.