POTD: Daniel Radcliffe Now On A 'Swiss Army Man' Tour With His Dead Body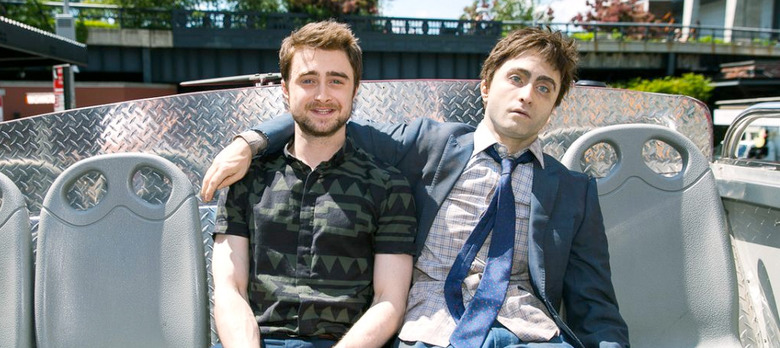 If you haven't heard of the movie Swiss Army Man yet, do yourself a favor and watch the red band trailer right here. Pretty weird, right? Even though the movie was dubbed as the "farting corpse movie" when it premiered at the Sundance Film Festival back in January, prompting some audiences to walk out of the movie, there's much more to it that flatulence and oddities. Sure, the movie is a strange one, but it also has a lot of heart and tells an original story.
Now in an effort to help promote the movie, A24 is sending co-star Daniel Radcliffe on a strange promotional tour in a handful of major US cities with his own dead body for everyone to see. Find out more about the Swiss Army Man tour stops below.
A press release from A24 didn't provide much information on what this tour would entail. But since the photos feature Radcliffe with the dummy double of his character Manny from Swiss Army Man on a tour bus, we're betting people will be able to spot the Harry Potter star cruising around with the dummy for all to gaze at and maybe even take pictures.
The Official Manny Tour 2K16 already hit New York City, as you can see from this tweet:
Manny About Town: Day 1 #SwissArmyMan pic.twitter.com/4jn6WxD561

— A24 (@A24) June 6, 2016
The tour is also slated to hit Washington DC, Chicago, Denver and Los Angeles. While there's no specific dates available for these stops, stay tuned to the A24 Twitter feed to see when they're in these cities. They've already indicated to one fan that the bus will be in Denver this coming weekend, so keep an eye out in the Mile-High City.
It appears that anyone who spots the bus may be able to hop on for a special city tour with Radcliffe and Manny, so you might be lucky enough to take a drive around the actor and his dead body if you keep your eyes peeled.