'Ghostbusters' Featurette Shows Off The New Ecto-1, Has Snippets Of New Theme Song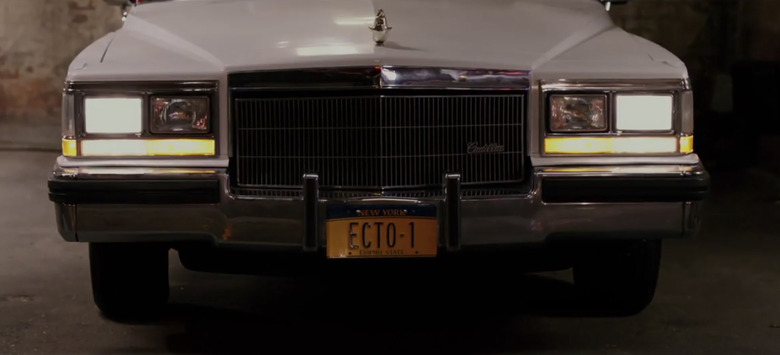 It's Ghostbusters Day! Today marks exactly 32 years since the original Ghostbusters hit theaters in 1984. In addition to the theatrical screenings happening around the country tonight, a new featurette from the reboot has just arrived, giving us a much closer look at the update Ecto-1, which is now a hearse instead of an old ambulance.
There aren't any big revelations about the car, but we do get to see a little more details of the signature vehicle from the movie as well as some footage of Melissa McCarthy, Kristen Wiig, Kate McKinnon and Leslie Jones driving around in it. However, what you'll really want to pay attention to are the snippets of the new Ghostbusters theme by Fall Out Boy and Missy Elliot towards the end.
Watch the Ghostbusters featurette after the jump.
The new Ecto-1 is a respectful and cool update of the iconic vehicle, and I can't wait to see if it gets a little more screentime or maybe serves as a more functional vehicle for the team this time instead of just being their transportation. I wouldn't mind seeing the car equipped with some ghost busting tools this time.
As for that new theme song, well, it sounds pretty much exactly how I'd expect it to. It's certainly strange to hear the Ghostbusters theme song lyrics sung by Fall Out Boy's lead singer Patrick Stump's trademark voice, but the tune doesn't sound half-bad. It will never replace the original, but it could be a nice update of Ray Parker Jr.'s classic theme.
In addition to the four leading ladies, the rest of the Ghostbusters cast includes Chris Hemsworth as their secretary, Andy Garcia as the mayor of New York City, Neil Casey as the film's villain, Matt Walsh and Michael K. Williams. Plus, original Ghostbusters stars Dan Aykroyd, Bill Murray, Ernie Hudson, Annie Potts and Sigourney Weaver are all making cameos.
Ghostbusters is the movie everyone is waiting to see this summer, some with excitement, some with hope for failure. It would be great to have a new Ghostbusters franchise succeed and give us something to look forward to with some possible sequels.
Ghostbusters makes its long-awaited return, rebooted with a cast of hilarious new characters. Thirty years after the beloved original franchise took the world by storm, director Paul Feig brings his fresh take to the supernatural comedy, joined by some of the funniest actors working today – Melissa McCarthy, Kristen Wiig, Kate McKinnon, Leslie Jones, and Chris Hemsworth. This summer, they're here to save the world! The film is produced by Ivan Reitman and Amy Pascal, and written by Katie Dippold & Paul Feig, based on the 1984 film "Ghostbusters," written by Dan Aykroyd and Harold Ramis and directed by Ivan Reitman.
Ghostbusters arrives July 15.