How Kelsey Grammer Became Sideshow Bob On 'The Simpsons', Including The Origin Of His Voice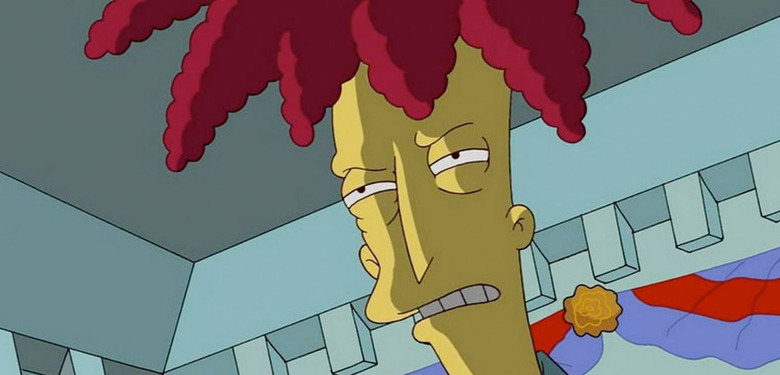 With the exception of Dr. Frasier Crane on both Cheers and the spin-off series Frasier, easily the best role Kelsey Grammer has played in his career is that of Sideshow Bob, the sidekick of Krusty the Clown on the long-running animated series The Simpsons. Grammer won an Emmy for his voiceover performance as the character in 2006, and he's one of the fans' favorite side characters from Springfield.
If you're curious as to how Sideshow Bob came to be the character he is today, and who inspired the character's rich voice that Grammer brings to life, you can find out pretty quickly. Kelsey Grammer recently appeared on The Graham Norton Show and discussed how he came to be involved with The Simpsons and the origin of Sideshow Bob's voice.
Here's the video with Kelsey Grammer explaining the Sideshow Bob origin from the BBC:
If you can't watch the video because you're at work or something like that, here's what Grammer had to say. As far as how he came to voice the character, we can all thank Cheers for serving as the gateway to The Simpsons. Sam Simon, one of the creators of The Simpsons, was a writer on Cheers, and he thought Grammer was perfect for the role:
"[Sam Simon] called me one afternoon and asked, 'Hey Kelsey, can you still sing? Can you sing a Cole Porter song "Everytime We Say Goodbye?" We've got this character whose never actually said anything on the show. He's Krusty the Clown's sideshow, we call him Sideshow Bob, and we want him to speak finally, and we thought you should do it.'"
Just to show you the kind of inspiration actors take from their everyday life for their characters, here's where Grammer came up with the voice for Sideshow Bob:
"I had logged away a voice years ago, from when I worked for a man named Ellis Rabb. When I was working for him I was painting his bathroom and hanging wallpaper, stuff like that, Ellis would regale me with these stories when he came home from work always, and he'd say things like, 'Oooooh Kelsey, that baby should have been mine.' And I thought, 'this guy...I'm gonna use him someday.'"
And the rest is history. Of course, there's also some of Frasier Crane in Sideshow Bob as well. That's why David Hyde Pierce and John Mahoney, who played Grammer's brother and father on Frasier respectively, also voiced Sideshow Bob's brother and father on The Simpsons. Isn't that great?