'The Little Mermaid Live': Watch Highlight's From Last Weekend's Hollywood Bowl Show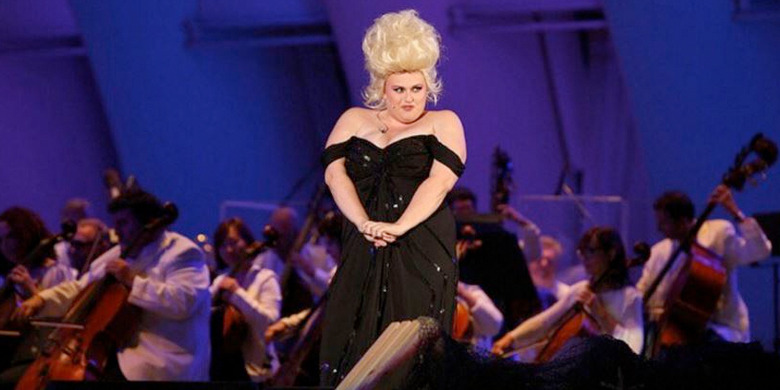 For those who haven't heard, last weekend saw The Hollywood Bowl in Los Angeles, California host an event called The Little Mermaid Live. The event rounded up some impressive singing talent from film and television along with a 71-piece orchestra to perform the Alan Menken's iconic music from Disney's animated classic. Thankfully, since nearly everyone has a camera in their pocket now, we get to see some of the highlights from the show.
Renditions of The Little Mermaid songs from the show featured pop singer Sara Bareilles as Ariel, Rebel Wilson (Pitch Perfect) as Ursula, Darren Criss (Glee) as Prince Eric, Titus Burgess (The Unbreakable Kimmy Schmidt) as Sebastian, and John Stamos as the frighteningly enthusiastic chef Louie. Plus, there was a special guest that fans of the original movie absolutely went crazy for. Find out who it was, and watch some of The Little Mermaid Live videos after the jump.
Fans of The Little Mermaid on Broadway might want to hear Darren Criss sing this Prince Eric song:
All right, we started you with something tame, so now let's get to the good stuff. Here's John Stamos doing his best faux French voice as Chef Louie, doing an endlessly entertaining rendition of "Les Poissons" (hee hee hee haw haw haw):
But Rebel Wilson wasn't going to be outdone as she delightfully and deliciously performed a very sassy and wonderful version of Ursula's "Poor Unfortunate Souls," complete with a big ole wig to help keep her in character:
Titus Burgess, who actually played Sebastian in the Broadway version of The Little Mermaid, slowed things down with the trademark romantic tune "Kiss the Girl" (the video is mislabeled as "Under the Sea" but it's the correct song):
All right, you've been patient for some Ariel singing, so here's Sara Bareilles belting the hell out of "Part of Your World," which is arguably the best song from the soundtrack:
Finally, here's Titus Burgess again, this time singing the signature tune "Under the Sea":
Of course, if you'd just rather here the original done again, The Little Mermaid's vocal star Jodi Benson showed up to perform "Part of Your World" as well, and at 54 years old, she still has some incredible pipes:
This looks like it was an absolute blast of a show to experience. And since it seems to have been such a success, I would be surprised if we saw more Disney movies get the same treatment. With a new live-action Beauty and the Beast on the way (watch the teaser trailer right here), that seems like the best option for the next Hollywood Bowl extravaganza. But The Lion King would be an incredible soundtrack to see performed live as well. There are so many options!