'Comedians In Cars Getting Coffee' Season 8 Trailer: Judd Apatow, John Oliver, Lorne Michaels & More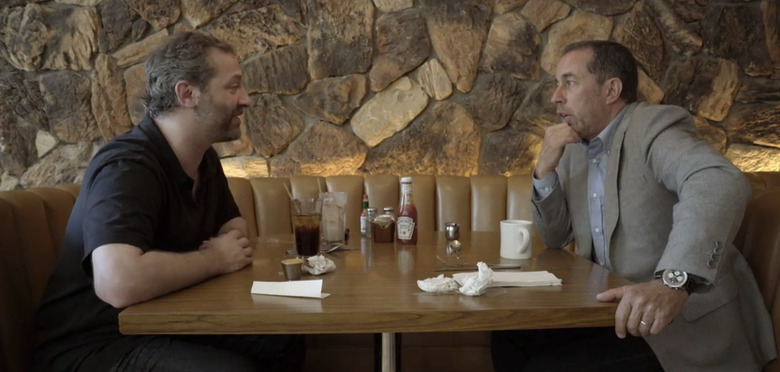 Much of the finest entertainment in the world isn't free. But that doesn't mean you can't find great content that won't cost you a dime. Case in point, Jerry Seinfeld has his web series Comedians in Cars Getting Coffee available to watch for free through Sony's Crackle, and the eighth season is on its way this summer.
The first Comedians in Cars Getting Coffee season 8 trailer has just debuted online, teasing Seinfeld's fascinating discussions with some of comedy's most brilliant minds. This season includes Saturday Night Live creator Lorne Michaels, director Judd Apatow, former Daily Show correspondent and Last Week Tonight host John Oliver, and plenty more. Watch below!
Here's the Comedians in Cars Getting Coffee season 8 trailer from Crackle:
If you somehow haven't stumbled upon Comedians in Cars Getting Coffee, the web series features Jerry Seinfeld and a guest, usually from the world of comedy and entertainment, driving around in some kind of cool automobile and stopping for coffee and breakfast at various little diners. Sometimes they do other recreational activities too, but the real highlight is all the discussions they have throughout the episodes.
Comedians in Cars Getting Coffee's eighth season will have six new episodes hitting on Wednesdays starting June 16. The guests for this new season include comedian Jim Gaffigan, Curb Your Enthusiasm star JB Smoove, Trainwreck director Judd Apatow, Saturday Night Live executive producer and creator Lorne Michaels, Last Week Tonight host John Oliver and longtime comedian Margaret Cho.
Again, what's great about this show is that it's free. Sure, you have to watch some ads here and there, but it's worth it. Each episode spans 15-25 minutes and dives into some amazing topics in the realm of comedy and just life in general. Seinfeld has chatted with some great guests, including Will Ferrell, Steve Martin, Stephen Colbert, Jon Stewart, Tina Fey, Sarah Silverman and even President Barack Obama. Seinfeld has even had Jason Alexander on the show in character as George Costanza, as well as former Seinfeld cast members Julia Louis-Dreyfus and Michael Richards.
If you want to watch any of those previous episodes of the Emmy-nominated Comedians in Cars Getting Coffee, you can watch them all right here.