'Pacific Rim 2' Recruits John Boyega To Re-Cancel The Apocalypse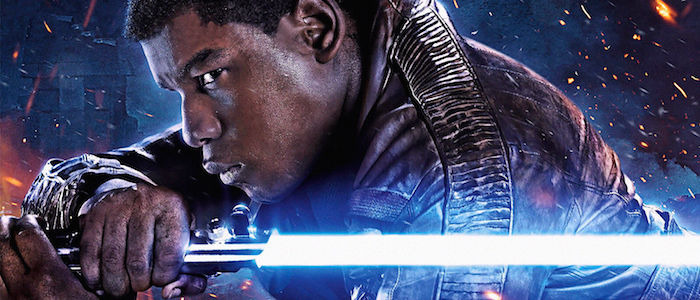 Pacific Rim opened to mixed reviews and even more mixed box office back in 2013, barely scraping past $100 million at the domestic box office while finding far more success abroad. Those who love it really love it and those who hate it really hate it. I'm personally quite fond of the big, silly world director Guillermo del Toro crafted – even when the movie doesn't quite work, this is a universe so full of concepts that deserve to be expanded upon and infinite possibilities for future stories. Even though del Toro is stepping away from the sequel and letting Steven S. DeKnight take the directorial reins, Pacific Rim 2 remains an intriguing prospect.
And it just got even more intriguing, because John Boyega has joined the cast as the son of Idris Elba's Stacker Pentecost. You know, the best character from the original film. The man with the instantly quotable speech about "canceling the apocalypse."
The story comes to us via press release. Boyega is best known for playing Finn in Star Wars: The Force Awakens and he's spent the fast few months reprising the role in Rian Johnson's Star Wars: Episode 8. Between these films and the truly great and still under-seen Attack the Block, he's showcasing a natural inclination for science fiction and there's nothing wrong with that. The genre is lucky to have him. Boyega himself confirmed the casting on Twitter:
I'll be taking on the Pacific Rim franchise with Steven S.Deknight directing. Very excited!

— John Boyega (@JohnBoyega) June 6, 2016
Noteworthy: since he's playing the son of a British character, Boyega will be able to actually use his natural accent in Pacific Rim 2.
Although we don't know much, the fact that the 24-year old Boyega is playing the son of a character played by the 43-year old Idris Elba raises some very interesting questions that we should consider. Spoilers for the first Pacific Rim inhabit the rest of this paragraph. Either Stacker Pentecost had his son when he was extremely young or Pacific Rim 2 will take a big leap forward in time. After all, the first film concluded with the inter-dimensional portal at the bottom of the pacific ocean that allowed giant monsters to invade Earth being closed, but Pentecost died in that final battle. It's easy to imagine a sequel jumping forward a decade or two.
It appears to be full-steam-ahead for Pacific Rim 2, which was previously known as Pacific Rim: Maelstrom. Jurassic World screenwriter Derek Connelly was hired last month work on the script and the casting of Boyega makes it pretty clear that isn't just a pipe dream for Universal and Legendary – they're going to make this movie happen.
The original press release with quotes follows:
JOHN BOYEGA SET TO STAR IN THE SECOND INSTALLMENT OF LEGENDARY'S PACIFIC RIM FRANCHISEThe Action Adventure Film Will be Directed by Steven S. DeKnight
BURBANK, CA, June 6, 2016 – Legendary Pictures has tapped John Boyega, one of today's most talented rising stars, the lead role for the second installment of its PACIFIC RIM franchise.  The film, which is targeting a 4th Quarter start date is rapidly taking shape as a key project on Legendary's upcoming slate with Boyega playing the son of Idris Elba's character from the original film.
The project will be directed by Steven S. DeKnight based on the world created by Guillermo del Toro and Travis Beacham. Thomas Tull, Mary Parent, Jon Jashni, and del Toro will produce the action adventure film along with Boyega and Femi Oguns under their Upper Room Productions shingle. Cale Boyter will serve as the film's executive producer.
"It is undeniable that with all his talent and natural charm, John stands out amongst today's generation of young leading men," said Mary Parent, Legendary's Vice Chairman of Worldwide Production.
"I am very proud and happy to welcome John into a fantastic sandbox. The Pacific Rim universe will be reinforced with him as a leading man as it continues to be a multicultural, multi-layered world. 'The World saving the world' was our goal and I couldn't think of a better man for the job," stated del Toro.
John Boyega's previous credits include STAR WARS: THE FORCE AWAKENS and ATTACK THE BLOCK. His upcoming projects include STAR WARS: EPISODE VIII, THE CIRCLE opposite Tom Hanks and Emma Watson, IMPERIAL DREAMS, WATERSHIP DOWN alongside James McAvoy and Sir Ben Kingsley, and he will star on stage next year in WOYZECK at The Old Vic. He is represented by WME and Identity Agency Group in the UK and Hansen Jacobson.
The film will be distributed by Universal Pictures around the world with the exception of China.
About Legendary Entertainment
Legendary Entertainment is a leading media company with film (Legendary Pictures), television and digital (Legendary Television and Digital Media) and comics (Legendary Comics) divisions dedicated to owning, producing and delivering content to mainstream audiences with a targeted focus on the powerful fandom demographic. Through complete or joint ownership, Legendary has built a library of marquee media properties and has established itself as a trusted brand which consistently delivers high-quality, commercial entertainment including some of the world's most popular intellectual property. In aggregate, Legendary Pictures-associated productions have realized grosses of more than $12 billion worldwide at the box office.