'Sausage Party' Extended TV Spot: Nachos, Bananas & Peanut Butter Suffer For Our Hunger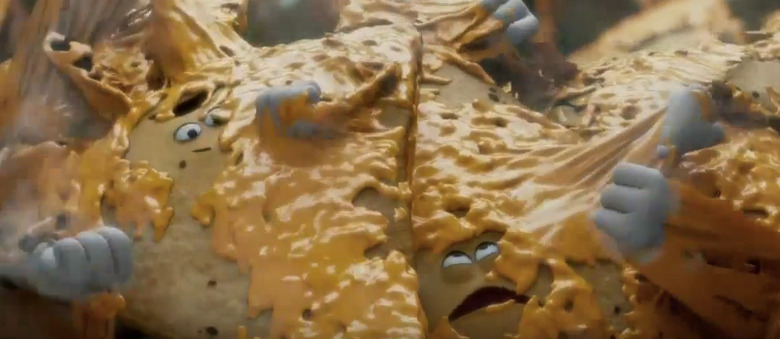 In about a month, we'll all be chomping down on some tasty cookout food when Independence Day rolls around in July. Thankfully, Seth Rogen and Evan Goldberg's animated comedy Sausage Party isn't hitting theaters before that to dissuade us from murdering all the food we eat.
A new Sausage Party TV spot has a bunch of new footage from the animated movie that imagines a world where humans don't know that food is alive. Foods like hot dogs, carrots, bananas, peanut butter and anything you can think of come to life just like the toys in Toy Story. But in Sausage Party, rather than being cherished by humans, they're viciously prepared, cooked and eaten, which comes as a big shock to the innocent food that usually celebrates being bought in the grocery store.
See even more food tortured in the new Sausage Party TV spot below.
The TV spot doesn't show off any of the vulgarity, but don't forget that this is a straight-up adult animated comedy that will be R-rated when it hits theaters, as evidenced by the red band trailer. For the love of God, don't take your kids to this movie. If there's one story that emerges about how parents mistakenly took their kids to see Sausage Party, I don't know what I'll do. Probably shake my head and move on with my life, but planning a Game of Thrones kind of shaming wouldn't be a bad idea either.
Hopefully audiences turn out to see this original comedy when it arrives later this summer. The crowd didn't turn out in droves to see Popstar: Never Stop Never Stopping this weekend despite reviews (including our own glowing reception) getting it certified fresh at 77% on Rotten Tomatoes. That's an original comedy that deserved to be seen, but it debuted at #8 with an estimated $4.6 million opening weekend. This is why we can't have nice things.
Arguably, Andy Samberg and The Lonely Island crew may not be able to draw a crowd as well as Seth Rogen and the all-star voice cast that includes Kristen Wiig, Bill Hader, Jonah Hill, Craig Robinson, Michael Cera, James Franco, Paul Rudd, Nick Kroll, Edward Norton and Salma Hayek. Plus, opening in the heart of summer may not have been the best move with such a crowded release schedule. So maybe Sausage Party will have what it takes to pull in a decent crowd.
Life is good for all the food items that occupy the shelves at the local supermarket. Frank (Seth Rogen) the sausage, Brenda (Kristen Wiig) the hot dog bun, Teresa Taco (Salma Hayek) and Sammy Bagel Jr. (Edward Norton) can't wait to go home with a happy customer. Soon, their world comes crashing down as poor Frank learns the horrifying truth that he will eventually become a meal. After warning his pals about their similar fate, the panicked perishables devise a plan to escape from their human enemies.
Sausage Party arrives on August 12.