'Vice Principals' Trailer: Bill Murray Has Advice For Danny McBride & Walton Goggins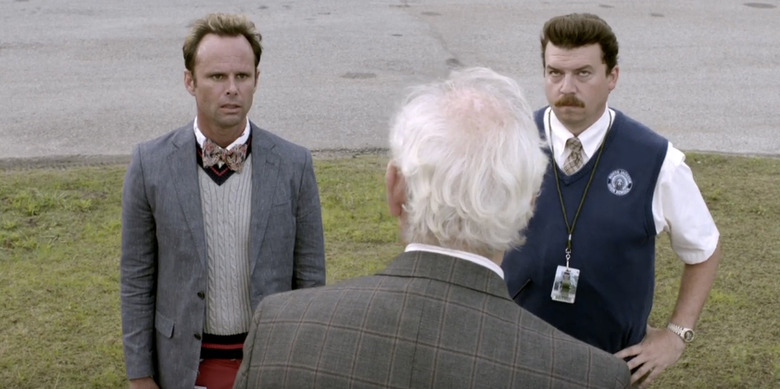 After teaming up for the raunchy comedy series Eastbound & Down on HBO, director David Gordon Green and star Danny McBride return to the network this summer with Vice Principals. This time the show follows Danny McBride as a vice princpial competing with Walton Goggins (The Hateful Eight) for the recently vacated position as principal at Lincoln High School, and these two childish grown-ups aren't beyond sabotaging each other in inappropriate ways.
A new Vice Principals trailer has arrived, and HBO is finally using the presence of Bill Murray in the pilot as the retiring principal of Lincoln High School. In the new glimpse for the show, Murray has some advice for McBride and Goggins before they start competing for his job. Watch below.
Collider had this to say after seeing the pilot at SXSW earlier this year:
"'Vice Principals' sense of humor isn't for everyone and after that rocky start, there is definitely some concern that the show might fall back on obnoxious and off-putting zingers. But, if things continue on the path that the second episode started, there's a chance the show could wind up exploring some more appealing and interesting territory down the line."
That sounds like fans who enjoyed Eastbound & Down will have plenty to love about this show since the description in that first sentence could easily apply to the previous series from David Gordon Green and Danny McBride. Plus, the added presence of Walton Goggins only sweetens the deal for this show.
Plus, David Gordon Green has already shot two seasons of the comedy series for HBO, so we'll at least get to see how those play out before the show goes away. As for a third season, Green told IndieWire:
"I don't know, I'll leave that up to Danny. It is something that we can see having a few seasons but it's a group of characters that I was so excited to work with that if someone has got an idea for a Season 3, I'll be the first to sign up."
If you'd like a little more from Vice Principals, check out this chat about the show with McBride and Goggins:
The rest of the Vice Principals cast includes Georgia King (The New Normal) as an English teacher, Busy Philipps as Neal's ex-wife, Shea Whigham as her new husband, Kimberly Hebert Gregory as the principal, and Sheaun McKinney as a cafeteria worker. If you want to see more, you can watch the previous trailer right here.
Vice Principals hits HBO on July 17.