'Phantom Boy' Teaser Trailer: A Boy With Cancer Is New York City's Newest Superhero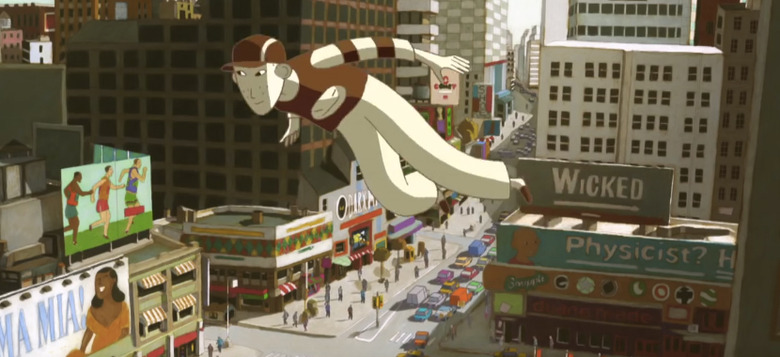 Directors Jean-Loup Felicioli and Alain Gagnol previously collaborated on the Oscar-nominated animated film A Cat in Paris, and now they're back with their latest cartoon effort, Phantom Boy. The film premiered at the Toronto International Film Festival this year, and while it would be easy to say this is just another superhero movie, this looks like something truly special.
The first Phantom Boy teaser trailer has just arrived online from GKIDS, and it shows off the gorgeous animation and unique story about a young boy with cancer who is able to leave his body and fly around New York City for short periods of time. With this power, he may be the only one who can help stop a criminal mastermind. Watch the Phantom Boy teaser trailer below.
Aside from the gorgeous animation style that made A Cat in Paris such a joy to watch, this promises a touching tale with the main character being a young cancer patient. This is probably one of those movies that's really going to punch you right in the heart, but that's what great stories are supposed to do from time to time.
The story takes place in a sort of fictional version of New York, inhabited by French-speaking people and clearly inspired by the country's culture, which almost makes it feel like a less polished, more mature Big Hero 6 in a way. The Hollywood Reporter said in their review, "Like other recent French cartoons — ranging from Persepolis to the Kirikou series — this one manages to maintain something personal within a broadly appealing framework: it doesn't shy away from the dark side of life, and in the end, even allows us to enjoy it."
This undoubtedly looks like a refreshing departure from the more conventional animated fare we get on the big screen in the United States. But since this is a foreign film, it might be tough to find it in theaters.
Leo has a secret. A mysterious illness has transformed him into a phantom boy, able to leave the confines of his body and explore the city as a ghostly apparition. While in the hospital, he befriends Alex, a New York City cop injured while attempting to capture a nefarious gangster who has taken control of the city's power supply, throwing the metropolis into chaos. Now they must form an extraordinary duo, using Leo's phantom powers and Alex's detective work to foil the plot and save New York from destruction. Phantom Boy continues Gagnol and Felicioli's fascination with animated film noir, in a heart-thumping adventure that pushes their trademark visual style to literal new heights, as Leo swoops and soars above the greatest skyline in the world.
Phantom Boy opens in limited theaters on July 15th.