Lin-Manuel Miranda's 'In The Heights' Is Getting Filmed, But Don't Hold Your Breath For A 'Hamilton' Movie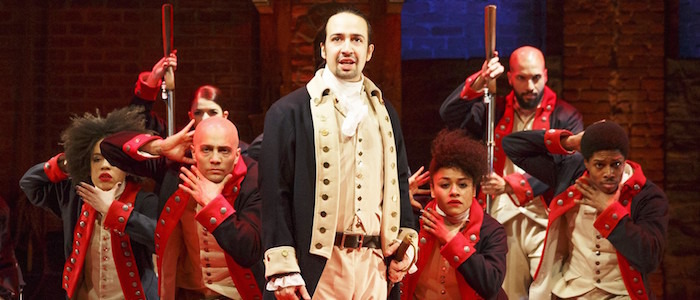 Lin-Manuel Miranda is a genius and this is a case where that word deserves to be taken very literally. In fact, the writer and star of Broadway's Hamilton may very well be the entertainer of 2016. If you look beyond his brilliant hip-hop musical about the life of Alexander Hamilton that has been nominated for 16 Tony Awards and has already won a Grammy and the Pulitzer Prize, you'll note that he also contributed songs and music to Disney's upcoming animated film Moana and was recently cast as the male lead alongside Emily Blunt in the upcoming Mary Poppins Returns. Yeah, he's having a good year.
And that year is already getting busier. Miranda's first Broadway musical, In the Heights, is finally getting ready to go before cameras. But don't get you hopes up for a Hamilton movie anytime soon.
The Hollywood Reporter reports that the Weinstein Co. has acquired the rights to In the Heights, which was previously in development at Universal before falling apart due to budgetary concerns a few years back. This current iteration, which is eyeing a very modest budget of $15 million, will be produced by Miranda, but it's not clear if he will reprise his role as Usnavi, a bodega owner living and working in New York City's Washington Heights. Considering that he's a decade older than the character as written, you probably shouldn't count on it. However, his involvement in the film version is a promising sign – he's nothing if not protective of his work. No director is attached yet, but Quiara Alegria Hudes, who wrote the book for the original show, has written the latest draft of the screenplay.
Although In the Heights didn't reach pop culture saturation like Hamilton has over the past year, the seeds of Miranda's later work can be found in the show's unique rap and salsa numbers. The ultimately won four Tony Awards, including Best Musical.
With his increasingly full plate, it shouldn't come as a surprise that Miranda is officially departing the cast of Hamilton. His final show will be on July 9. If you have a small fortune and can afford to blow it on in-demand Broadway tickets, you need to act fast.
And if you don't have a small fortune and keep crossing your fingers that a film adaptation of Hamilton will enter the development pipeline soon, you need to reset your expectations. After all, the show hasn't even started touring yet! Plus, Miranda tells Rolling Stone that you're going to have to wait for a long time beyond that:
Someday. Probably not for, like, 20 years [...] The thing is, we worked really hard to make this work as a piece of theater. And I get it – I get it 50 times a day: "Please film it! Please film it so we can watch it!" And I understand it's hard to get to New York and it's hard to get a Broadway ticket. At the same time, filming is an act of translation. It is not being in the room with us. It's different. You will get the forest, you will not get the trees.
We're going to be seeing a great deal of Lin-Manuel Miranda in the coming years and you know what? There are few artists I'd rather follow.