Bryan Singer Thinks X-Men's Mystique Deserves A Solo Movie, Even Without Jennifer Lawrence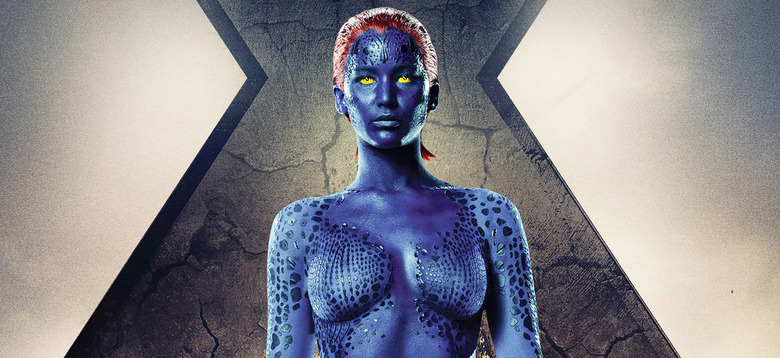 Right now X-Men: Apocalypse is in theaters, but this weekend it'll have to do battle with the Teenage Mutant Ninja Turtles and their cartoonish sequel. It's likely that the X-Men won't be able to top the box office again, but 20th Century Fox is already focused on the future of the X-Men franchise anyway.
The next X-Men sequel has been said to take place in the '90s and may also head to space for a more loyal take on the Dark Phoenix saga. Plus there's the delayed Gambit sequel, a Deadpool sequel, and the New Mutants coming as well. But director Bryan Singer thinks another longtime franchise character deserves their own movie: Mystique. Find out more after the jump.
Bryan Singer recently spoke to Empire and while discussing Mystique's revamped role in the X-Men universe as the de facto leader of the young mutant team, the director revealed that he thinks the shapeshifting character deserves her own movie. Singer says:
I think [Mystique's] right for [a standalone], whether it's Jennifer [Lawrence] or not. She has this different view of the world. Xavier can get into Cerebro and look at the world but he'd rather just teach classes and see the beauty of mutants and humans co-existing in his mansion in Westchester. Along comes Raven with a reality check on the state of the world. It opens up a lot of avenues.
While Mystique certainly has a different viewpoint than Professor X, one that's a little less optimistic and more practical, her evolution over the films hasn't exactly been the most riveting part of the franchise. She's flip-flopped about as much as Magneto has in the film series, but in a much less compelling way. Even her place in X-Men: Apocalypse feels forced and lacks any real motivation or significance.
In the end, it's not up to Singer to decide who gets their crack at a solo franchise. But Jennifer Lawrence may have the starpower to make it work, especially if a solo outing involved other mutants we hadn't yet seen on the big screen. Of course, the only member of the X-Men franchise to get their own movie is Wolverine, and he was much better suited for his own franchise due to his long unexplored history.
For my money, the version of Mystique we've seen on screen in this latest trilogy of films doesn't feel interesting enough to have her own movie outside of the traditional X-Men franchise, especially now that she's leading the team. The character is better suited to (hopefully) evolve with the rest of the X-Men instead, especially since Lawrence has a pact to only come back for future sequels if James McAvoy and Michael Fassbender also come back.
However, if 20th Century Fox can figure out a way to make her character arc exciting, or give her something intriguing to do, then a Mystique solo movie could work. After all, there's a storyline in the comics that sees Mystique going on covert missions for Professor X that no one knew about as long as he used his powers to protect her from people who wanted to kill her. She was basically her own Suicide Squad for Professor X, and she ended up working with Forge in that storyline, a character who would be cool to see in the movies. But in order for that to happen, a lot of things would have to change in the X-Men timeline.
Anyone out there want to see a Mystique solo movie?