More 'Harry Potter And The Cursed Child' Photos: Draco Malfoy Is All Grown Up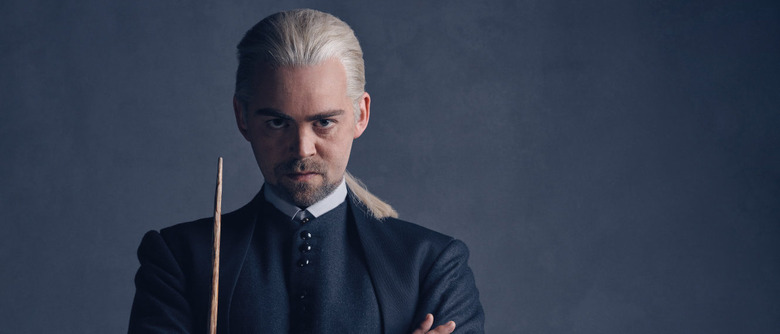 You've met the Potters and the Granger-Weasleys; now it's time to get acquainted with the Malfoys. The upcoming play Harry Potter and the Cursed Child has released the first official photos of Draco Malfoy, now all grown up and played by Alex Price, and his school-age son Scorpius, played by Anthony Boyle.
The pair round out the Cursed Child cast, which also includes Jamie Parker (Harry Potter), Poppy Miller (Ginny Potter), Sam Clemmett (Albus Potter), Noma Dumezweni (Hermione Granger), Paul Thornley (Ron Weasley), and Cherrelle Skeete (Rose Granger-Weasley).
Draco Malfoy (@alexpriceactor) in #HarryPotterPlay #CursedChild. First public preview is in five days! pic.twitter.com/kdZIwEZiCL

— Harry Potter and the Cursed Child (@CursedChildLDN) June 2, 2016
Scorpius Malfoy (@antoboyle), 1st year student, Hogwarts. #HarryPotterPlay#CursedChild previews start in 5 days! pic.twitter.com/xhMmplKmqg

— Harry Potter and the Cursed Child (@CursedChildLDN) June 2, 2016
Draco and Scorpius Malfoy played by @alexpriceactor and @antoboyle. #HarryPotterPlay #CursedChild. pic.twitter.com/QnSwoZGcqn

— Harry Potter and the Cursed Child (@CursedChildLDN) June 2, 2016
Like father, like son? It sure looks like Draco's taken after his dad Lucius, at least in terms of style. His kid looks kind of terrified, so maybe Draco's also adopted Lucius' chilly, imperious demeanor. In the books, Scorpius is the son of Draco and his wife Astoria Greengrass (younger sister of Daphne, a minor character), but either she's out of the picture or Draco just decided the family portrait would be better as a father-son bonding activity.
As much as Draco resembles his dad, there's reason to believe the new generation of Malfoys are more progressive than the last one was. Draco lost his taste for Voldemort's pureblood ideals after the events depicted in the books, and J.K. Rowling has revealed on Pottermore that Astoria went through a similar conversion. "As Astoria refused to raise their grandson Scorpius in the belief that Muggles were scum, family gatherings were often fraught with tension," she wrote.
And now that you've met the three clans at the heart of Harry Potter and the Cursed Child, let's finish out this batch of publicity stills with an adorable behind-the-scenes look at the actors posing for them. Everyone looks a lot less deadly-serious in real life.
See behind the scenes of our #HarryPotterPlay character photo shoot in this exclusive video. #CursedChildhttps://t.co/t4ek7kKKdW

— Harry Potter and the Cursed Child (@CursedChildLDN) June 2, 2016
Harry Potter and the Cursed Child begins previews June 7, and officially opens July 30. Jack Thorne wrote the play from an original story he created with Rowling. John Tiffany is directing.
It was always difficult being Harry Potter and it isn't much easier now that he is an overworked employee of the Ministry of Magic, a husband and father of three school-age children.
While Harry grapples with a past that refuses to stay where it belongs, his youngest son Albus must struggle with the weight of a family legacy he never wanted. As past and present fuse ominously, both father and son learn the uncomfortable truth: sometimes, darkness comes from unexpected places.