Theme Park Bits: 'Frozen' On Stage, 'The Jungle Book: Alive With Magic,' And A Brief Glimpse Of 'Skull Island: Reign Of Kong'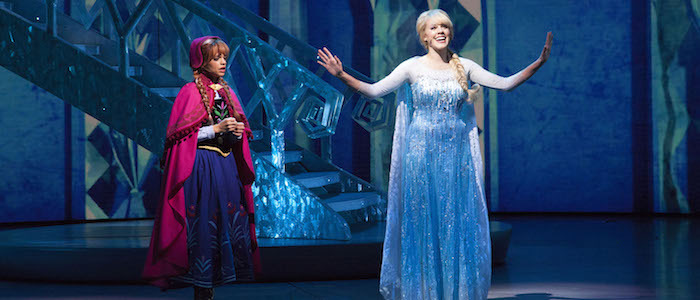 In today's Theme Park Bits:
Watch footage from Frozen: Live at the Hyperion.
Explore the new The Jungle Book: Alive With Magic Show.
A look at the problems plaguing Shanghai Disneyland.
Watch Shanghai Disneyland's stunning fireworks show.
Universal Studios offers a tiny tease of Skull Island: Reign of Kong.
There's fan outcry every single time a Disney attraction gets replaced by something new and shiny, but you could really taste the bile amongst some of the devoted when it was announced that a live Frozen show was replacing Aladdin at the Hyperion theater in Disney's California Adventure park. After all, Disney's Aladdin: A Musical Spectacular had been a mainstay since 2003. However, Disney crunched some numbers, realized that a show based on a massively popular recent film would probably perform a little better than a show based on a movie from 1992, and introduced Frozen: Live at the Hyperion. And here we are. The show has premiered. Highlights are online. And...it looks like Frozen. On stage. And it looks perfectly fine. Disney fans will be furious when it gets pulled for something new in a decade or so.
If you want to take a slightly deeper look at this new Frozen show, a brief behind-the-scenes featurette about the casting process has arrived online. There's not a ton of information here, but it's always fun to see snippets of a technologically complex stage shows coming together, even if it's montage form. Personally, I could watch the puppeteers controlling Olaf and Sven the reindeer all day.
Speaking of new live entertainment coming to Disney theme parks, a new featurette offering an insider's look at the new The Jungle Book: Alive With Magic show at the Animal Kingdom park in Florida is here and...it's not the whole story. The truth is that this show was a last-minute replacement that was thrown together in record time when it was clear that the far more ambitious Rivers of Light show wouldn't be ready in time for summer crowds. Luckily, Disney had a massively popular animal-themed movie in theaters, which gave the Imagineers a solid foundation upon which they could build something. You can watch the entire show below.
Initial reviews for The Jungle Book: Alive With Magic have been underwhelming, to say the least. It's hard for any Disney nighttime event to compete with the traditional fireworks display or Fantasmic. Hopefully, Rivers of Light will really knock everyone's socks off when it arrives eventually.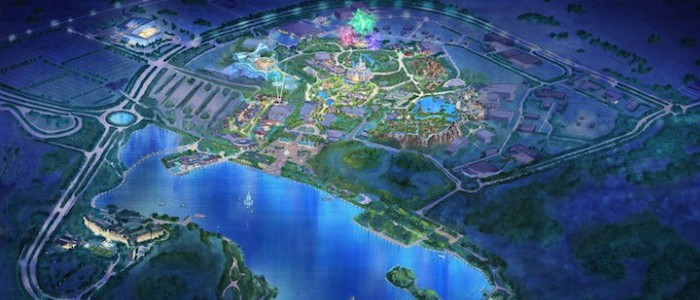 Although Shanghai Disneyland officially opens to the public this month, the brand new park underwent a soft launch in May and the results were mixed. Everyone seems to agree that the new attractions are nothing short of spectacular, showing next-generation theme park tech that legitimately feels like it's taking things to the next level. However, Shanghai's municipal government has been compelled to write an "etiquette" guide for park visitors. The guide warns guests against "littering, being rowdy, vandalizing, cutting in line, damaging the landscape and other 'uncouth behaviors' such as lying down on the ground." Considering Disney's habit of keeping their property looking as clean and well-maintained as possible, this could be a problem.
Over 20,000 people have stormed #ShanghaiDisneyland over the weekend. They are treating this park like trash. pic.twitter.com/qr7UiLLUJI

— 🩷❤️🧡💛💚🩵💙💜🤎🖤🩶🤍 (@daykota) May 3, 2016
If Disney hopes to make their expansion to markets beyond America, Europe and Japan work, they're going to have to find ways to not only accommodate other cultures and introduce them to their particular brand of tourism.
In more upbeat news, footage from Shanghai Disneyland's "Ignite the Dream" fireworks show has popped up on YouTube and it's impressive stuff, combining plenty of colorful explosives with footage being projection-mapped on the park's central castle.
While Star Wars: The Force Awakens didn't take off in China quite like Disney had hoped, they're still trying to make it stick, even dedicating an entire segment of the fireworks show to the beloved-by-other-nations film series.
Watch King Kong Saturday Night on @nbc starting at 8p ET and get an exclusive look at Skull Island: #ReignOfKong. pic.twitter.com/dVPLOVul4O

— Universal Orlando Resort (@UniversalORL) May 28, 2016
Finally, we'll break from the onslaught of Disney news for one Universal Studios tidbit. While promoting a a television airing of Peter Jackson's 2005 remake of King Kong, Universal Orlando offered a tiny tease of the new Skull Island: Reign of Kong attraction. So take a look. That is one giant ape head.