'Swiss Army Man' Music Video: What Can You Do With Daniel Radcliffe's Farting Corpse?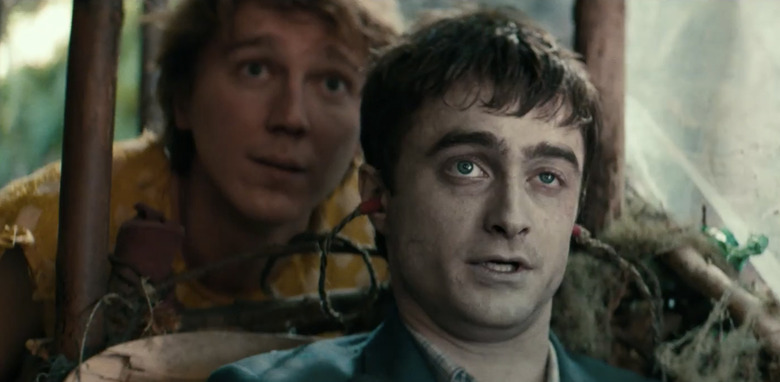 This summer, you'll finally get to see the movie that was the talk of Sundance, the farting corpse movie Swiss Army Man. The film was bashed by some critics (a few even walked out of screenings) while those who stuck around to find the deeper meaning behind the nonsense were rewarded with a wholly unique story about love, friendship and loneliness.
If you're still on the fence about this movie, a new Swiss Army Man music video features a montage of all the ways Paul Dano finds Daniel Radcliffe's flatulent corpse to be useful. It's all set to the original music written by Manchester Orchestra members Andy Hull and Robert McDowell, who were behind the film's wonderful soundtrack. But if you're already planning on seeing this movie, I would avoid watching this and save the craziness for the theater. Otherwise, watch the Swiss Army Man music video after the jump.
Here's the Swiss Army Man music video from A24:
Most of the lyrics of this song from the movie are pretty self-explanatory, as they whimsically explain just what Paul Dano is doing with Daniel Radcliffe's dead body. Songwriters Andy Hull and Robert McDowell previously teamed up with the directing duo of Daniel Kwan and Daniel Scheinert (credited as "Daniels") for one of Manchester Orchestra's music videos, one that also had flares of peculiarity, though not anywhere near the oddities of Swiss Army Man.
Don't worry, there's plenty of other nonsense to be seen in the movie outside of this music video. But at its core is a very touching, meaningful story. It's the kind of movie that I could see becoming a sort of cult favorite. Though some Harry Potter fans will undoubtedly be weirded out if they decide to give it a chance because of Daniel Radcliffe alone.
If you're looking to make your own strange fun, there's an online game that allows you to toss around Daniel Radcliffe's limp body yourself. Plus, you can sign up to get texts that tell you how to unleash his more secretive abilities, just like Paul Dano learns in the movie.
See more from Swiss Army Man in the film's red band trailer right here.
Being stranded on a deserted island leaves young Hank (Paul Dano) bored, lonely and without hope. As a rope hangs around his neck, Hank prepares to end it all, until he suddenly spots a man (Daniel Radcliffe) laying by the shore. Unfortunately, he is dead and quite flatulent. Using the gassy body to his advantage, Hank miraculously makes it back to the mainland. However, he now finds himself lost in the wilderness, and dragging the talking corpse named Manny along for the adventure.
Swiss Army Man starts hitting theaters on July 1.