Watch Andy Samberg Get Weird With A Freestyle Music Video For 'Popstar'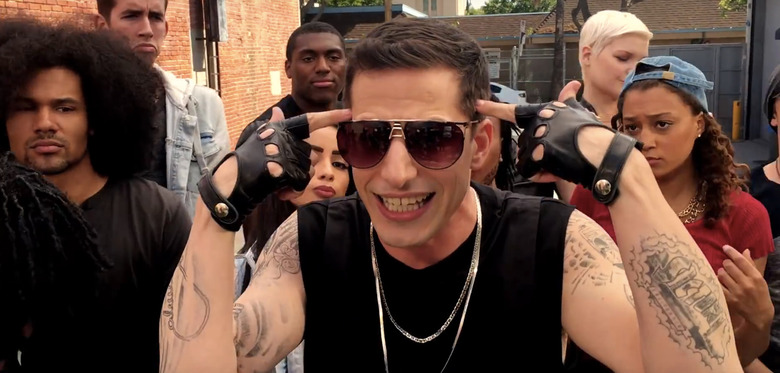 Even though Saturday Night Live is done until the new television season starts in the fall, this week we're getting a big dose of comedy from some of the sketch show's veteran performers and writers. The Lonely Island is bringing their music industry mockumentary Popstar: Never Stop Never Stopping to theaters on June 3, and Universal Pictures is putting out everything they can to spread awareness.
Following the music video for "The Finest Girl" that was released during the season finale of Saturday Night Live, a new video featuring Andy Samberg as faux rapper Conner4Real has the artist doing a little freestyle song about just how weird he is. The weird things he does include using a banana as a phone and taking the middle seat on a plane. Watch the new Popstar music video after the jump.
As someone who loved Popstar, I can tell you that this video isn't the best representation of what you'll find in the movie. Sure, there are some insane, silly rap songs from The Lonely Island used as the songs that launched the career of Conner4Real, but they're much funnier than this.
However, what's impressive about this video is that Samberg is actually rapping here as opposed to just lip syncing. Plus, this is a single take video with perfect timing from the crew around him, so kudos to whoever shot this amusing little promotional music video. It's not as good as something like "Jack Sparrow" or "I'm on a Boat," but it's not bad.
Popstar isn't a movie that's going to top the box office, but if you're looking for some huge laughs, this is the movie to see this coming weekend. Aside from The Lonely Island delivering a non-stop laugh riot, there's plenty of fun to be had just from the endless array of celebrity cameos alone. Give this one a chance on June 3.