Jeff Bridges Bringing Some True Grit To 'Kingsman: The Golden Circle'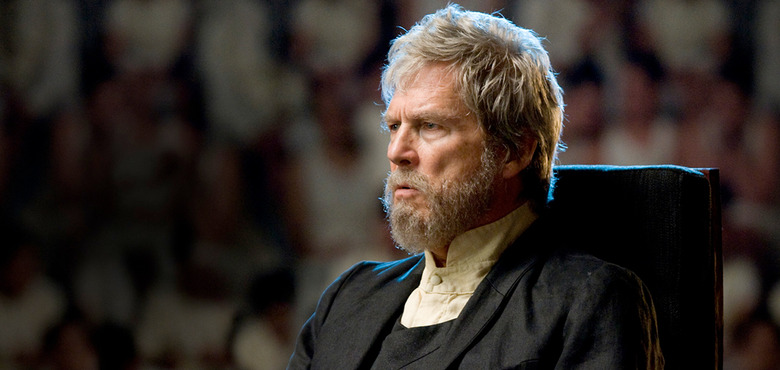 The cast of Kingsman: The Golden Circle is already something special with Elton John making a rare turn as an actor. But the roster for the sequel just got a little sweeter with the addition of The Big Lebowski and True Grit star Jeff Bridges, and he even got his own teaser poster that is the perfect way to announce the addition of The Dude to the cast. In fact, the poster just might tease the role of Jeff Bridges in Kingsman 2.
Here's the image posted to Twitter by Jeff Bridges himself:
#Kingsman pic.twitter.com/MrwRI6ZMrm

— Jeff Bridges (@TheJeffBridges) May 28, 2016
Considering Bridges' on-screen history with alcohol, this is the perfect image to announce his addition to the cast. In addition, this also gives us a hint as to who Bridges might be playing. His character hasn't been officially named or even described, but we do know that Kingsman: The Golden Circle will see the devastated British spy organization teaming up with their American counterparts known as the Statesman. The American agents just so happen to have their center of operations disguised as a whiskey distillery. If I had to guess, Bridges is more than likely playing the head of the American agents, not unlike Michael Caine in the first movie.
The past few years haven't seen Bridges in the best movies. He's had roles in The Giver, R.I.P.D. and Seventh Son, all extremely underwhelming movies in their own way. Even TRON Legacy was a disappointment in many regards, though the movie was a visual sensation with a killer soundtrack. But hopefully this will give the actor something worthwhile to do on the big screen.
In addition to Bridges, Kingsman: The Golden Circle also sees the return of Taron Egerton as Eggsy and Mark Strong as Kingsman agent Merlin (who will really have his work cut out for him this time). Meanwhile, Julianne Moore is a new addition to the film as a villain named Poppy while Channing Tatum and Pedro Pascal are playing a couple of Statesman, the latter named Jack Daniels. Finally, the return of Colin Firth has been teased as well, even though his character Harry Hart seemed to meet his demise in the first movie.
Production is underway right now across the pond and 20th Century Fox has already staked out June 16, 2017 for the sequel to arrive. There may be more cast members left to be revealed, but if not, the talent on board Matthew Vaughn's sequel is more than satisfactory.