'The Maze Runner: The Death Cure' Release Date Pushed Nearly A Year To 2018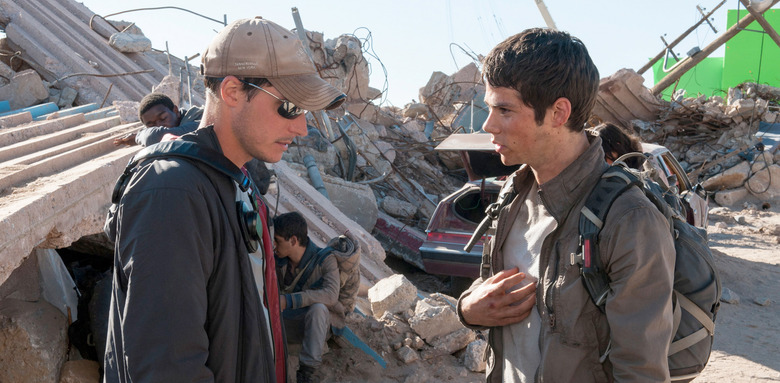 The end of last month brought news that production on The Maze Runner: The Death Cure had been postponed indefinitely to allow franchise star Dylan O'Brien more time to recover. The actor was injured when a stunt went wrong back in March. Details on how the accident occurred haven't been confirmed, but O'Brien was said to have several broken bones, either fracturing his cheek bone or orbital socket.
At this time, it's unclear just how much longer O'Brien needs to recover before production can resume on the third film in the franchise based on author James Dashner's book series. But the good news is 20th Century Fox has plans to get the movie back on track, and that begins by setting a new release date for early in 2018. Plus, the studio has also shifted some release dates for a couple upcoming Marvel movies and the reboot of Predator. Find out more below
Variety reports The Maze Runner 3 release date has been set for January 12, 2018, pushed back nearly an entire year from the originally set February, 17, 2017. That means the untitled Marvel project that Fox previously had set in that exact same slot has now been pushed back to March 2, 2018. Fox hasn't confirmed what this movie is, but many were assuming that it was Deadpool 2 since the film had so much success with a February release earlier this year.
In addition, Fox has shifted their other unknown Marvel project from July 13, 2018 up to an earlier debut on June 29, 2018. Again, we don't know what that movie is, but the next X-Men sequel (the one that's supposed to be set in the 90s and retelling the Dark Phoenix story) is probably a safe bet.
Finally, Fox has bumped up the release of Shane Black's reboot of Predator from March 2, 2018 to February 9, 2018. That gives the R-rated sci-fi action flick the release window that Deadpool had earlier this year. That makes sense since Shane Black previously said that the comic book flick helped pave the way for Predator to actually happen at the studio.
As for The Maze Runner: Death Cure, here's the official synopsis from the book:
WICKED has taken everything from Thomas: his life, his memories, and now his only friends—the Gladers. But it's finally over. The trials are complete, after one final test. What WICKED doesn't know is that Thomas remembers far more than they think. And it's enough to prove that he can't believe a word of what they say. Thomas beat the Maze. He survived the Scorch. He'll risk anything to save his friends. But the truth might be what ends it all.
As soon as we get details on when production will resume, we'll be sure to let you know.