'Fast 8' Set Video Gets The Whole Gang Back Together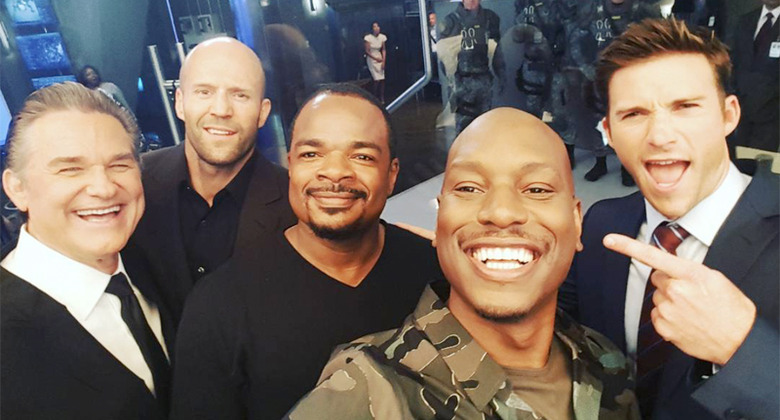 Production is underway on Fast 8, the next sequel in the long-running Fast and Furious franchise. Recently the film because the first major Hollywood movie to shoot in Cuba, so that will be something cool to see on the big screen next spring. But this past week marked the first time Dom Toretto (Vin Diesel) got his whole team together on set all at once.
Universal has a released a set video of the cast having the time of their life working on the sequel, and you can watch that after the jump. In addition, a couple other official videos straight from the set offer even more glimpses at the production and what we can expect from the action-packed sequel. Watch the Fast 8 set videos after the jump.
Here's the most recent Fast 8 set video from the official Fast and Furious YouTube channel:
This time it's director F. Gary Gray who gets to play around with Diesel and the rest of his reliable team. That includes Michelle Rodriguez, Tyrese Gibson, Chris "Ludacris" Bridges and Dwayne Johnson, whose arm is probably bigger than most people's legs. Plus, Nathalie Emmanuel is reprising her role as Ramsey from Furious 7, and she'll be joined by Kurt Russell as well. The new guy on the scene is Scott Eastwood, and since he's got a nice suit on, it would appear he's working with Russell.
The big question is what is Jason Statham doing on set here? Shooting appears to be taking place in some kind of headquarters for the team, and last we saw Statham, he was getting locked up in a very secure holding cell. Has Statham broken out to cause more trouble for the gang? Or is there a chance he and Diesel's crew have a common enemy in Charlize Theron and they have to team up to take her on? We'll have to wait and see.
Other returning cast members include Jordana Brewster, Elsa Pataky and Lucas Black. Until we learn more, check out these two other set videos from the production of Fast 8:
Fast 8 is slated to arrived on April 14, 2017 and two more sequels are set for release on April 19, 2019 and April 2, 2021. Principal photography for Fast 8 is continuing in New York, Atlanta, Georgia and Iceland.