Chris O'Dowd, John Ortiz, And More Join The 'God Particle' Cast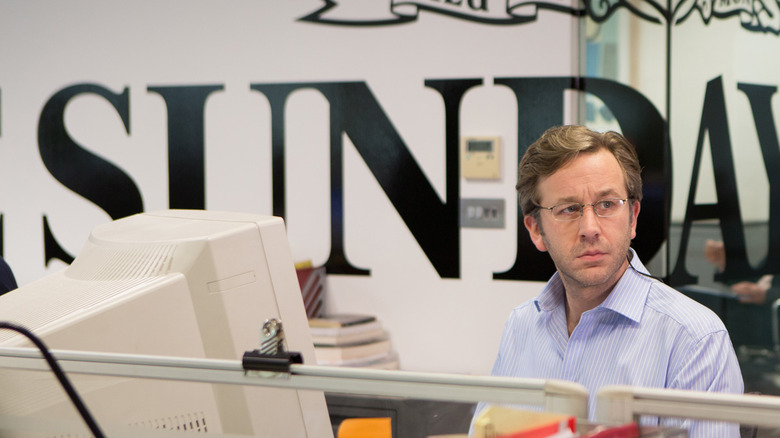 The cast for the J.J. Abrams-produced God Particle keeps getting better and better. The latest additions to Julius Onah's (The Girl in Trouble) film are Chris O'Dowd (The Sapphires), John Ortiz (Togetherness), Aksel Hennie (The Martian), and Zhang Ziyi (The Grandmaster). Production on the sci-fi film, which may or may not be related to Cloverfield, begins June 10th.
Below, learn more about the God Particle cast.
The cast already includes Daniel Brühl (Captain America: Civil War), David Oyelowo (Selma), Gugu Mbatha-Raw (Beyond the Lights), and, a star-on-the-rise, Elizabeth Debicki (The Night Manager). John Krasinski was once in talks to join the project, but The Hollywood Reporter says Chris O'Dowd will play the role Krasinski was once circling.
God Particle takes place in the near-future and "centers on a team of astronauts on a who make a terrifying discovery that challenges all they know about the fabric of reality, as they desperately fight for their survival." Their discovery? Either that Earth has disappeared, an unknown spacecraft, or the god particle.The Hollywood Reporter also broke the news that Zhang Ziyi has boarded the cast, and they also offered up some new plot details. After a scientific experiment goes wrong, Earth disappears. Then a mysterious space shuttle appears–which sounds like a potential connection to Cloverfield. Early reports stated it was a European spacecraft that "could spell doom or salvation," but the script might have evolved since then.Variety doesn't have any information on John Ortiz and Aksel Hennie's roles but, based on the plot synopsis, they're probably also playing members of the crew. Variety has more information on "the mysterious God Particle," a new energy source which leads to "catastrophic side effects," maybe related to Earth's disappearance. With the film being produced by J.J. Abrams, we shouldn't take the plot synopsis entirely at face value.
Around the release of 10 Cloverfield Lane–another contained thriller that turned out to be more than meets the eye–Peter speculated God Particle could tie into the Cloverfield story in some capacity. "In the 10 Cloverfield Lane ARG, John Goodman's character Howard Stambler showed up as the employee of the month on the Bold Futura website," he wrote. "Bold Futura is one of the subsidiary companies of the Tagruato Corporation introduced during the 2007 viral/ARG, which was working on the "design, manufacture and integration of advanced technology products for the military, arms manufacturers and space exploration organizations. Also, let's not forget the satellite that fell from the sky in the background of the concluding Coney Island scene in Cloverfield."
God Particle opens in theaters February 24th, 2017.